Going Green with Computer Cables
When people think about going green, a lot of what comes to mind is using less power, using recyclable goods and reducing waste. Believe it or not, there are some companies that take this into consideration when producing cables for your computing or home theater needs.
A lot has to go into the construction of environment-friendly or green computer accessories. This includes construction and production of cables and wires by using very little to no harmful chemicals to produce these accessories. These cabes should also be constructed with oxygen-free copper (also known as OFC) to help improve the flow of video and audio transfer. In such, far less power is needed in order for your hardware to run as smoothly as possible.
Another important aspect is the accessory's packaging. It would be rather ironic should you purchase an environment-friendly cable that came inundated with ridiculous amounts of plastic. This shouldn't be the case as packaging is both as limited as possible and completely recyclable.
Save Energy & Money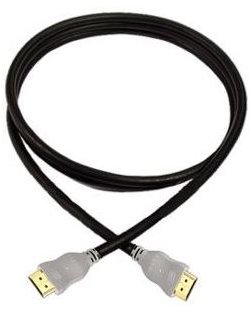 While a lot of green products promise long-term savings, this typically is another way of saying, "You'll be spending a lot for this product." Typically, for green cables such as HDMI cables or S-Video cables, a lot of what you spend has to do with the length of the cable along with specific brand names.
Fortunately, some green cables don't cost that much more than conventional computer cables. In fact, some of them can even be less expensive than top-of-the-line cables, while providing comparable quality in performance. Sure, while some green products won't be as inexpensive as your typical, run-of-the-mill cable that you don't really care whether it works or dies, this doesn't mean that they don't deliver on quality. For example, a six inch HDMI cable can be pricey: up to $60. Fortunately some green HDMI cables (such as ACCELL cables) run for about $30, with very similar quality.
So, for future green computing needs, users really should consider purchasing cables that are environmentally friendly. They're not only reasonably priced, but they do work particularly well. Better yet, because they use less power than conventional cables, there could even be a noticeably lower energy bill every month.
What are you waiting for?