1. Simple Pricing and Models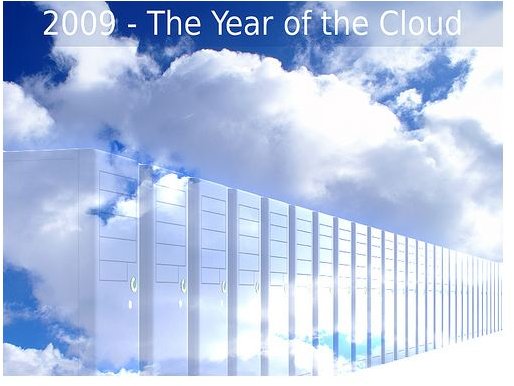 The success of cloud computing depends on the pricing. While cloud computing does allow enterprises to save on initial costs to install IT infrastructure, high operational costs negate, or even overturn, much of this cost saving, and this remains a major factor that prevents the spread of cloud computing. Cloud service providers understand this fact, and among the top cloud computing trends emerging is service providers offering competitive pricing, hoping to compensate for lower per client revenues, with a larger client base and greater volumes.
A related cloud computing trend is offering simpler pricing models. For instance, instead of charging separately for bandwidth transfers, load balancing, PUT and GET requests, and other factors, more and more cloud service providers now offer more straightforward and simple pricing models, usually at an all inclusive price, in a bid to further attract users.
Image Credit: flickr.com/BasicGov
2. Standards
One serious drawback related to cloud computing, is lack of standards. Cloud computing operators use open source programs, but unique application program interfaces that make interoperability impossible. This creates over-dependence on an operator.
Emerging trends in cloud computing indicate the coming of standards. The Distributed Management Task Force (DMTF), is an initiative to set cloud computing standards, and its "Open Cloud Standards Incubator" is the first step in this direction. Another task force, the Enterprise Cloud Buyers Council, also aims at resolving security, reliability, and interoperability issues related to cloud computing and thereby facilitate standardization. Such initiatives would make standards that facilitate interoperability a norm in the near future.
3. Customization
Cloud computing is at present limited to common and basic applications, such as customer relationship management applications. Complex and customized applications such as a reservation system is still not feasible in cloud computing, owing to the rigid platform available with the cloud service providers. The emerging trend to standardize cloud-computing platforms would, however, allow adopting cloud computing for more customized and complex purposes.
4. Enhanced Services
Cloud computing is at present mostly confined to sharing hardware and software. The scope of cloud computing however, far exceeds such rudimentary services. The emerging trend is for cloud service providers to offer their expertise to their clients, through useful applications. Some of the already established examples include Salesforce.com's consultancy service, H&R Block's Tango consumer online tax-preparation service, and more.
5. Technology
Cloud computing is still in its early days, and much work needs doing before integration and transfer from desktops to clouds become seamless and commonplace. Efforts in this direction continue, and one noticeable trend is more and more third party application developers providing data centered technologies and tools for cloud computing environments. Such third party appliances help reduce user costs for moving applications into the cloud, and make the process seamless.
6. Security
One important issue that prevents the spread of cloud computing, is security and privacy related issues. Cloud computing invariably involves entrusting sensitive enterprise data with external providers, who also have access to such data.
The Cloud Security Alliance, a non-profit organization attempts to create a consensus on security issues relating to cloud computing, such as fixing liability for breach of security, and other aspects, as a first step towards pushing for regulatory changes. Such initiatives will ensure resolution of many security issues related to cloud computing in the future.
7. Enterprise-level Service Agreements (SLA)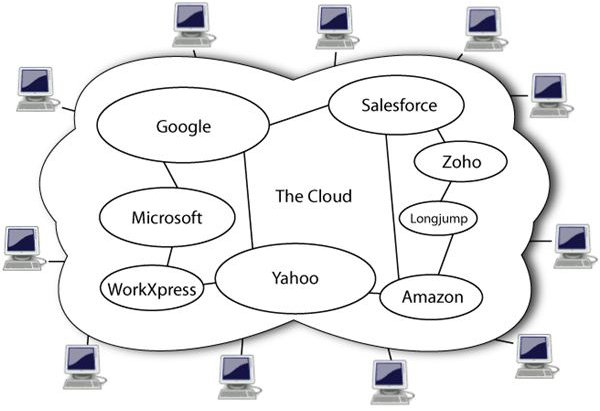 One of the emerging trends in cloud computing is cloud service providers diluting from their rigid generic agreements, to offer enterprise level service agreements.
Major factors that enterprise users consider when opting for a cloud computing service provider, are the robustness of the service provider's network, ability to add capacity to match demand, cloud computing and data quality, and resilience to overcome disruptions. The trend in cloud computing is for service providers to offer enterprise level SLA, that offers flexibility and customization in the extent of service required and offered.
Image Credit: https://commons.wikimedia.org/wiki/File:Cloud_computing.jpg
8. Private Clouds
The development of private clouds rank among the top trends in cloud computing.
The initiatives to solve issues related to security and interoperability, and cut in rates notwithstanding, the trend is towards large enterprises developing their own private clouds. Such private clouds address concerns of security, scaling, and costs in the best possible way. IBM's Cloud Computing initiative "Blue Cloud", is a step in this direction, which many large corporations will emulate in the coming years.
The service of cloud computing service providers, such as Google and Amazon will still find relevance, owing to the increasing number of SMEs expected to embrace cloud computing once the underlying issues resolve.
9. Paradigm Shift in Role and Nature of IT Departments
Cloud computing decentralizes IT infrastructure and technology for enterprises and users, and forces a change in skill-sets for IT professionals employed in enterprises.
The hitherto focus of the enterprise level Information Technology departments on rollouts, integration and development projects will fade into irrelevance as technology moves from the enterprise to the cloud service provider. Cloud computing also empowers employees to process information directly. The role of the IT department therefore, changes to extracting the best possible business value from the cloud computing resources, and such a reduced scope will invariably lead to shrinkage of IT departments.
10. Performance Monitoring
The increasing use of cloud computing services would result in such services assuming a public utility nature, and consequently focusing public attention on the performance of cloud networks. Cloud providers are already under pressure to report all outages, and the emerging trend is to scrutinize such outages and other performance parameters on a real time basis.
Trends in cloud computing would ultimately result in the demise of local applications, causing PCs to become slimmer, agile gateways to the cloud.
References
Thibodeau, Patrick. "10 Big Cloud Trends for 2010." https://www.computerworld.com/s/article/9142429/10_big_cloud_trends_for_2010?taxonomyId=158&pageNumber=1 Retrieved 21 January 2011.
Hakala, David. "The Top 10 Cloud Computing Trends" https://www.focus.com/articles/hosting-bandwidth/top-10-cloud-computing-trends/. Retrieved 21 January 2011.