Philips MP3 Player 8GB: Is This one Worth It?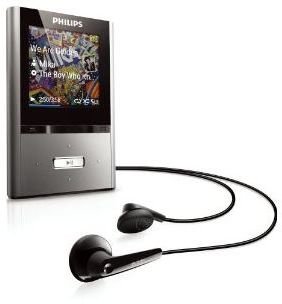 Choosing the best portable MP3 players can be a bit of a daunting task with so many different brands and styles to choose from. Among the many companies offering MP3 players, Philips is a brand you can actually trust due to its solid background. However, while finalizing a Philips MP3 player 8gb (if you are looking for a good memory size), you should first determine what you need an MP3 player for. Below is the list of 5 MP3 players by Philips which have 8GB memory, along with their features.
Philips ViBE 8GB
The Philips ViBE features a full color 1.5 inch display on the LCD screen. The Philips FullSound technology allows you to experience your music without any distortion. It also features a durable aluminum finish. This MP3 player not only plays videos, it also allows you to store up to 8GB of JPEG and BMP photos and a slide show option which will allow you to flip through your favorite photographs while you are on the go. The internal battery will allow you to enjoy up to 4 hours of audio playback and is easy to recharge through a USB port on your Windows XP/Vista/Windows 7 PC. The system comes with a USB cable and headphones to enjoy music. You can expect to pay around $57.55 for this MP3 player on Amazon. But on the down side, the navigation is actually a shame and installation is a also very time consuming. The design of the MP3 player is also not very attractive. According to reviews, the system hangs at times and slows down after sometime. But overall, it is a good bargain if you are looking for a iPod. You can also buy Philips Vibe in 4GB.
Philips Muse 8GB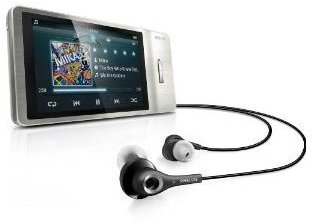 The 8GB Philips Muse not only offers FullSound technology, but also allows you the convenience of viewing movies in 720p HD resolution on the LCD touch screen. You can enjoy crystal clear sound and video that is easily shared with family and friends by hooking your Muse up to your television. You can enjoy up to 24 hours of audio or 5 hours of video with the rechargeable battery. The battery recharges easily using a free USB port on your Windows XP/Vista/Windows 7 PC. You get three ear caps which are interchangeable and headphones which isolate sound. This built in FM MP3 player costs approximately $122.37 on Amazon. If you are looking for more memory, you can buy Philips Muse with 16GB memory.
Philips Cam 8GB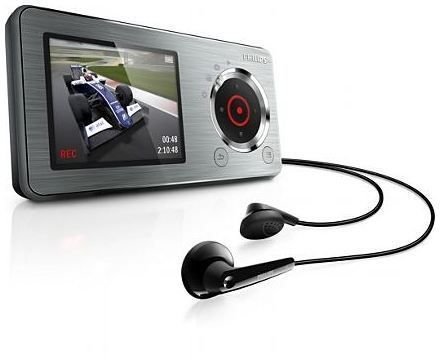 The 8GB Philips Cam is a MP4 player which has a a built-in camera and software which allows you to upload and share videos and photos online. It system comes with a FullSound technology and has a 2 inch of LCD screen with a battery back up of 12 hours. With the Cam, you can record up to 2 hours of video and then connect to your television and share the playback with others. You will enjoy the benefit of a microSD card slot, which enables you to expand your memory capacity up to 32GB. Philips Muse comes with a comfortable earphones and can expect to spend around $89.99 for this great MP3 player on Amazon.
Philips Ariaz 8GB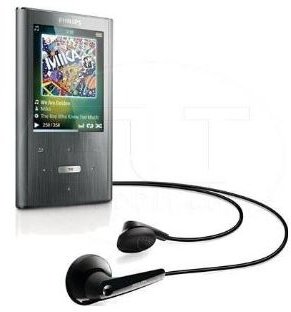 The Philip Aria 8 GB offers all of the benefits of a good MP3 player and offers FullSound technology along with a 2.4 inch full color display, 45 hours of music playback and 5 hour video playback. It offers Internet access so that the user can access support documents and manuals along with firmware and software upgrades. It also includes 20 preset FM radio stations and you can record music directly from radio. This MP3 player comes with a Binaural ear buds which cost around $74 on Amazon. The bad part is the navigation is very vague and the installation process of softwares takes quiet some time.
Philips RaGa 8GB
Philips RaGa 8GB is MP3 player which comes with FullSound technology. It has a LCD screen of 1 inch and can store up to 1800 songs and has an in-built FM radio tuner. You can enjoy 22 hours of playtime and Internet access with this system. You can recharge the battery using the USB port and adapter. The system comes with headphones but does not have video capacities. The RaGa does have everything else you would want including the FullSound technology and, all for about $45.
With all the features along with pros and cons mentioned about your choice of Philips MP3 Player 8GB, you can actually decide if this is the one you want or not. Enjoy music on one of these players and let us know you review.
Resources
Amazon.com (accessed 10/10)
Cnet.com (accessed 10/10)