Hooking Up the iPod Shuffle to iHome Requires that You Have the Right iHome Docking Station.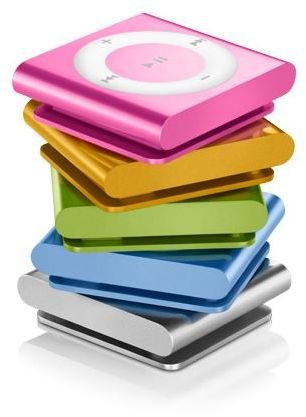 The IPod Shuffle and iHome
The iHome is an iPod docking station that allows you to listen to your iPod. Many of these systems also come with alarm clocks and wireless technology, which means that you can listen to your music using any Bluetooth-enabled device.
For a while there was an issue with hooking up iPod Shuffle to iHome, but this is no longer the case. Some newer iHome devices are compatible with the iPod Shuffle, and you don't need an adapter to get it to work. You must, however, read the iHome description before purchasing it just to make sure that the systems are compatible.
Difference Between iPod and iPod Shuffle
So, you may be wondering why an iHome wouldn't work with the iPod Shuffle? Well, the iPod Shuffle is not a standard size, especially the newer ones. These devices do not have the screen of the traditional iPod; they only have the bottom buttons, including the play and advance song
buttons.
Plus, the iPod Shuffle is extremely small, and it is meant to just clip on to a pocket, belt or purse. These devices also don't have the standard-sized plugs of normal iPods. This is where you plug your USB cord into your iPod, which allows you to sync your device, and this is also how your iPod plugs into your iHome.
So, the takeaway from all of this is that you need to find the iHome that works with the iPod Shuffle. When you do, however, hooking up iPod Shuffle to iHome is quite easy. You simply slip it into the docking station and play your music. The most difficult part will be finding the right iHome docking station.
iHome iH31 Series
To help you with this, here are some of the iHome docking stations that work with the iPod shuffle. The iHome iH31S (silver) and the iHome IH31B (black) work with both the iPod Shuffle and standard iPod. It comes with its own remote, and you can also play your local FM radio station on this device. This iHome is designed to look like the old boom boxes from the past with its large front speakers and rounded shape.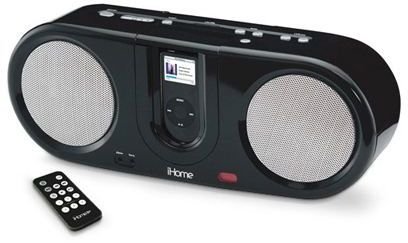 What's really nice about this iHome device is that the iPod actually slips into a front docking station. If you have the traditional iHome, then you know that the iPod sticks out the top. This sometimes causes it to fall out, or you have to fight with it to get the iPod in the slot correctly. This eliminates those problems. Both of these devices are portable and come with car chargers and batteries. And, the system is quite cheap at around $50.00.
SDI Technologies iHome Boombox
Another one is the SDI Technologies iHome Boombox, and this one also works with both standard iPod and iPod Shuffle devices. This device has two very large speakers in front, and the iPod also slips into a front dock on this one as well. It costs about $60.00, and you can also play FM radio on this device as well.
You can power this device either with batteries or a car charger, and it also comes with a MP3 line-in jack that allows you to hook up other devices to the system.