Philips Muse MP3 Player: A Review of the GoGear Muse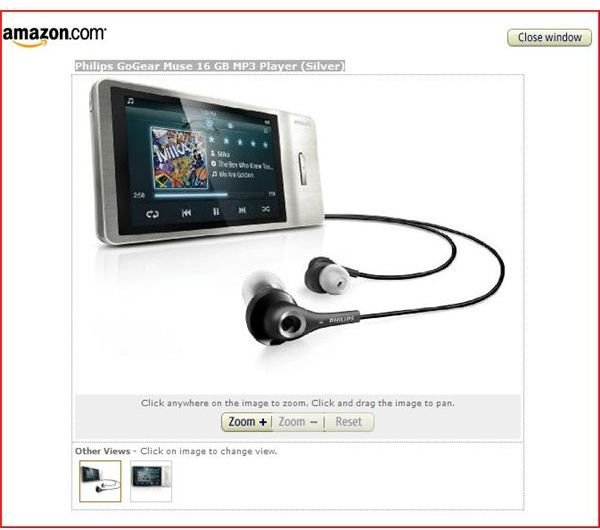 Philips GoGear Muse MP3 Player (16GB)
Features (5 out of 5)
This Philip Muse MP3 Player features a 3.2 inch touch screen that has a 400x240 pixel resolution which only operates horizontally. It has a built-in Fullsound™ Surround audio feature and comes with sound-isolation headphones that offer noise reduction capabilities to reduce environmental noise. The 16 GB Muse holds up to 3600 songs, 4000 photos, or 64 hours of video. But the additional MicroSD card slot allows for expandable memory and easy file transfer from your PC (the Micro SD has 32 GB of memory but isn't included). You can watch video in High Definition. Overall, it's a sturdy, sleek, and good looking design that you can get in silver or black. If you want to see a smaller offering from Apple, this iPod Nano 8GB MP3 Player Review will help you out.
Capabilities (5 out of 5)
This Philips Muse MP3 player has an FM radio that displays what you're listening to (song titles and artist names) with 20 channels to preset. It's also got a built-in microphone which is convenient for note taking and reminding yourself of whatever it is that you need to jump-start your human memory later. Much like iTunes, Phillips Songbird manages all your music and media in one place. Discover and buy new music, sync your library to your Muse player any way you want to. You can also access outside media websites, services, and stores from this software that works with Windows XP, Vista, or Windows 7. Obviously, it won't ever have a play date with an Apple operating system.
Performance (4 out of 5)
The GoGear Muse is a real solid unit for all your listening and viewing needs no matter where you go. The sound quality is very good although some users find the headphones that comes with it a little tinny. Many believe the Sony S series of MP3 players have the best sound quality. If you're a headphone enthusiast, check out this round up of the top 10 headphones for MP3 players. The picture quality is excellent although some users get annoyed that the device automatically stretches movies with a 4:3 aspect ratio to fill the screen. Battery life is excellent (roughly 35 hours for music) and although it comes with no charger, you use the supplied USB cord to charge it from your computer.
Ease of Use (5 out of 5)
The GoGear's intuitive touch-screen controls easily allow you to navigate through all of your tunes, browse your video selections, and organize your vast array of photos. Just touch the player's screen to navigate the main menu of Music, Video, Pictures, and Radio to further access files, folders, and playlists. The touch screen is a nice upgrade from previous Muse models that didn't have this capability.
What's Included (4 out of 5)
Out of the box, the Philips Muse MP3 player comes with sound-isolation headphones with three interchangeable ear caps, a USB cable, Philips Songbird software, and Quick Start Guide. As already stated, the Micro SD card will cost you extra.
Price to Value (3 out of 5)
This is a very good MP3 player and Philips undertook some great steps to make it better than previous offerings so that it's easier to use and jam-packed with features. If you're not big into watching video on an MP3 player, you'd probably be better off with an iPod Nano. But for $140 at Amazon.com, it really is a good deal for all that it can do for you.