Zune HD AV Dock: The Best of Zune HD Accessories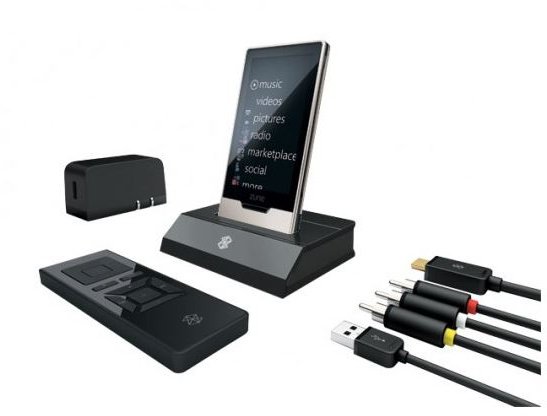 Zune Starport
By itself, the Zune HD is the best mobile video player on the market today. It is small, has a great screen, can last for many hours, and is capable of displaying a large number of movies and shows.
Buying the Zune HD player simply to use as a mobile video player would make sense, but in its stock form the Zune HD is simply capable of playing video on its own screen. Buy a Zune HD A/V Dock, however, and you'll be able to expand its capabilities. So what is the Zune HD A/V Dock, how much does it cost, what does it do, and most importantly - is it worthwhile?
Docking Basics
The Zune HD A/V Dock is just as small as the Zune HD itself. The Zune HD is responsible for the processing load, so the Zune HD dock is much more of a connector than a piece of hardware. The front of the Zune HD A/V Dock is flush, and it is built to stand the Zune HD upright. Around the back the Zune HD A/V Dock has ports for power, optical, and HDMI connections.
The Zune HD A/V Dock comes with cables that allow it to connect via component video and finally a Zune HD remote. For all of this you'll pay $90 dollars. That's a little steep, I agree, but it is the only way you'll be able to get the Zune HD connected to an HDTV.
Docking Advantages
Thankfully, your $90 dollars aren't spent entirely in vain. The Zune HD, once connected to the A/V Dock, will charge itself so long as the A/V Dock is connected to power.
In addition, using the Zune HD A/V Dock will enable a special interface for use with the TV. This interface is not far off the one normally found on the Zune HD, but it is dramatically enlarged. As anyone who uses an HTPC will tell you, this is very handy when using an HDTV to navigate through a menu.
Of course, the TV interface is navigated using the Zune HD remote which comes with the A/V dock. This completes the experience, making it easy for anyone to use the Zune HD with an HDTV.
Should You Buy One?
So, is the Zune HD A/V Dock worth the money?
I think so. There is no doubt in my mind that Microsoft is gouging people a bit on this piece of equipment. Microsoft could probably sell this for $50 dollars and make a tidy profit. However, Microsoft is the only game in town, and when it comes down to it this functionality is worth $90 dollars. It gives you the chance to keep your video library in your pocket and share it with others anywhere an HDTV is available.
This is a particularly good buy if your friends are movie buffs. No more waiting for DVDs come in, no more dragging around discs. Just plug in your Zune HD and you're good to go.