You Don't Need Cydia
The minute you install Cydia, you have jailbroken your iPod touch. Many users don't wish to do this, as it can make syncing with iTunes more complicated than it already is. Some users lose paid apps and content that they can never retrieve again. They can also lose their place in apps where they have won prizes or accrued points.
You can avoid this mess by not installing Cydia at all. But can you set a background on the iPod touch without Cydia? The answer is yes, and here's how to do that.
What You Need to Begin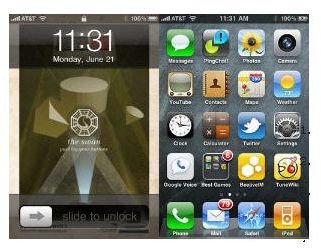 Your iPod touch needs to run on iOS4 in order to know how to add a background without jailbreaking the device. Fourth generation iPod touch devices automatically come with this functionality, while 2G and 3G models need to upgrade to this operating system in iTunes.
This update is free. All you need to do is plug your iPod touch into iTunes and select "Check for Updates" if iTunes doesn't automatically prompt you to update the device. ITunes will backup your device before updating, but it's always a good idea to select "File," "Transfer Purchase" first to transfer any purchase you've made since you last synced the device.
This update will take several hours to complete, depending on your internet connection speed and how full of content your device happens to be.
Setting the Home Screen
Now you're ready to learn how to add a background to your iPod touch home screen without Cydia. Type in your password to unlock your iPod touch. Navigate to your "photos" icon to choose a photo to use as your home screen background.
Tap the arrow button on the bottom of the photo of choice. Pick the "wallpaper" option. This gives you the option of using it as your home screen or as your lock screen. Pick the "Home screen" option. As soon as you make this selection, the image will appear in the background behind all the app buttons on each home screen.
Recommendations for Home Screen Wallpapers
Having a colorful graphic as your home screen background for your iPod touch is awesome, but pretty soon, you'll start to have a hard time seeing your apps. This is especially true if your graphic is a busy one.
Instead of picking the boldest graphic from your favorite new movie release, try picking a wallpaper with one solid color and some gradient. Scenic backgrounds with colorful skies, mountain vistas or cityscapes work, too. Try not to pick graphics with lots of words or faces, or you'll just get dizzy when you skip through your apps on the iPod touch.
The Retina Wallpapers HD app on the iTunes app stores offers lots of free wallpapers for this express purpose. The app itself is free, as are all the featured wallpapers. You might start there for home screen background ideas. You can do all of this without ever downloading Cydia and jailbreaking your iPod touch.
Sources
My own experience with the iPod touch
Image Credit: