Supported Formats
Before you start converting, you should know which video formats the Zune supports. The Zune supports M4V, MP4 and WMV files. These are the only formats you can successfully place on your Zune. Many video files are FLV or AVI, which you typically find from streaming video sites. Many music videos are also in the AVI format.
Not to fear; however, as you can convert files using Microsoft software that may already be installed on your computer. For converting DVDs, there are several great software options which cost under $40.
Windows Movie Maker / Windows Live Movie Maker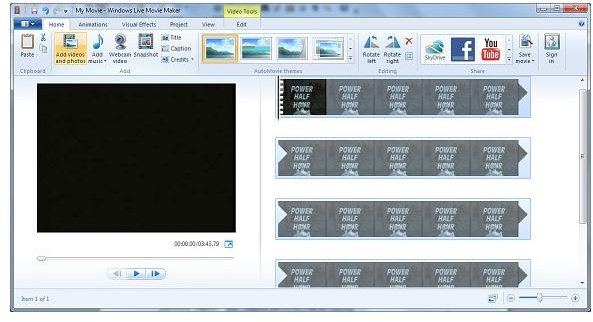 For Windows XP and Vista, Windows Movie Maker is pre-installed. For Windows 7, Windows Live Movie Maker is pre-installed or you can download it for free. The two programs are almost exactly alike with a few changes to the menus.
In Windows Movie Maker, go to File and choose either Import Media Items or Import into Collections. Choose the video you want to convert and press Import.
In Windows Live Movie Maker, press Add Videos and Photos from the ribbon menu. Choose your file and select Open.
Drag and drop the video file to the storyboard at the bottom of the screen. In Windows Live Movie Maker, the video is automatically added to the storyboard on the right side of the screen. You can reorganize files if you choose to combine several video files.
Go to File and choose either Save Movie File or Publish Movie, depending on your Windows version. In Windows Live Movie Maker, select the File icon, which is over the paste button and choose Save Movie File. Choose the location to save the file and file type to save the video as. Choose any of the support formats.
Microsoft Expression Encoder 4
The Microsoft Expression Encoder 4 can be downloaded for free from Microsoft. Download and install the software. Open the software and choose File and select Import. Choose the file you want to convert.
Select the Edit menu and choose Apply Preset. Select Encoding for Devices and choose WMV. Choose Encode. Wait for the encoding process to finish. Choose the Output tab and browse to the location you want to store the finished product.
How Do I Put Videos On My Zune
Once your files have been converted, if necessary, add them to your monitored video folder. The next time you open the Zune software, the video will be added to your collection. Drag and drop the video file from your collection to your Zune device. If you Zune is set to automatically sync when connected, the video will be added when you connect your Zune.
You can change or check to see which folders are monitored by opening the Zune software. Go the Settings at the top of the screen. Choose Software and select Collection. Under Videos, your monitored folders for video content are listed. You can add new folders or remove any folders you are not using.
References
Microsoft Support – https://support.microsoft.com/kb/928192
Microsoft Support – https://support.microsoft.com/kb/932614?sd=zune