Looking for Freeware for Sansa Fuze? Find Free Media Converters & Syncing Software Perfect for Fuze Users!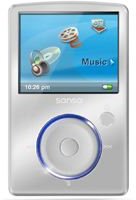 A Little Bit About Sansa Fuze File Types
Before you try to sync files with freeware for Sansa Fuze, understand that the Fuze has limited file compatibilities. As far as music is concerned, the Sansa Fuze is compatible with MP3, WMA, AAC, FLAC, OGG and WAV files. It's a little more strict with the videos, though, as movies must be in MP4 format.
Sansa Media Converter Freeware
The Sansa Media Converter is probably the most popular freeware for Sansa Fuze since it's designed for direct compatibility with the device. This freeware converts photos and videos into formats compatible with the Sansa Fuze, but doesn't deal with music.
Video compatibility is probably the biggest hangup Sansa Fuze owners run into when syncing files with their devices. That's why the Sansa Media Converter can handle file types like DIVX, MOV, MP4, WMV and AVI. As long as these files are unprotected, the Sansa Media Converter will switch them into an MP4 size and format that will work with the Fuze.
Syncing Freeware
The Sansa Fuze is designed to sync with Windows Media Player 10 and 11. However, that's not such a great option for users with Macs, which don't comply with Windows Media Player.
That's why Apple offers a software download called Sansa Device Sync that attaches directly to iTunes. Mac users can install this software and seamlessly take files from iTunes and apply them to the Sansa Fuze. Users can download this plugin straight from Apple's website.
Conversion Freeware
If you need freeware for Sansa Fuze that can convert music, and not just movies, or if you don't like using the Sansa Media Converter, you have a couple of other options available to you.
Quick Media Converter: Quick Media Converter takes several file types – DivX, Quicktime, WMA, WMV, iPhone, iPod and more – and converts them into useable formats for Sansa Fuze. You can specify the screen dimensions and volume you'd like for the videos or music, which helps if you've got space constraints on your Fuze.
Any Video Converter: Any Video Converter is an even more powerful video conversion freeware, as it has a lot of presets for screen dimensions that help take the guesswork out of conversions for the end user. You can also strip off the video track in a video if you want to keep the audio only. You can turn this audio portion into an MP3 file for use on your Sansa Fuze.
All of the freeware discussed here is spyware-free and takes little space on your hard drive. They are all fairly user-friendly and take very little adjustment to get the end result you're looking for. So if you're not big into techie projects, these freeware options will be just what you need!
References
Sources:
Sandisk: Sansa Fuze Supported Video and Music Formats
Image Credit: