Let's look at some of the best MP3 player software programs that may catch your fancy and satisfy your MP3 playback needs.
My MP3 Player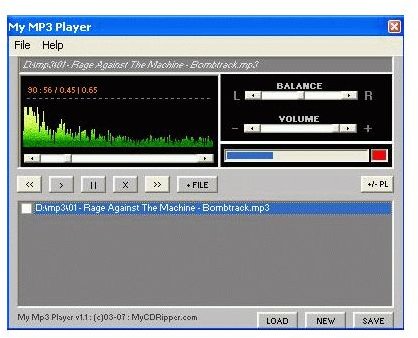 This is a free MP3 player software program for Windows offered by mycdripper.com. Apart from allowing you to play MP3 files the program (a 1MB download) also allows you to create playlists which you can then save for future use. Playlists could easily be created from music tracks from any drive in your computer or from any computer over a network.
My MP3 Player comes with a simple interface but has enough features to satisfy an average MP3 buff. There's the balance control and wave visualization, apart from the other controls you would find in MP3 players.
You can also play WAV and MIDI files with My MP3 Player which allows you to gauge the level of the sound signal with the aid of the built-in VU meter.
Zortam MP3 Player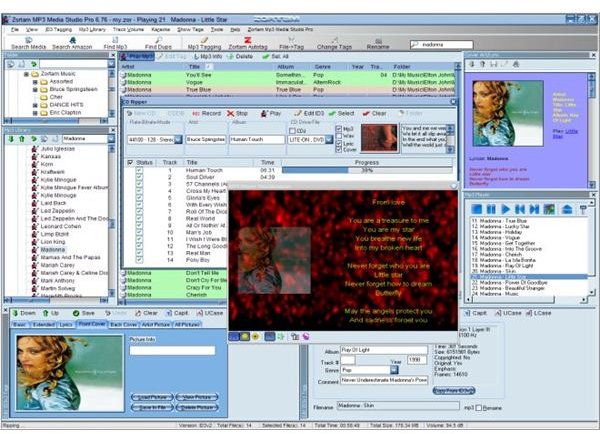 If you would, while listening to MP3 numbers, want to view your music album cover art together with the lyrics of your favourite songs, it's worth considering Zortam MP3 Player for Windows. A feature worthy of note is the ability to add your own visualization plugins using the Zortam plugin SDK. You can also add your own background image to the player interface.
Zortam MP3 player will set you back by $19.95 but you're allowed a 30-day free trial before committing to a purchase.
Free APE Player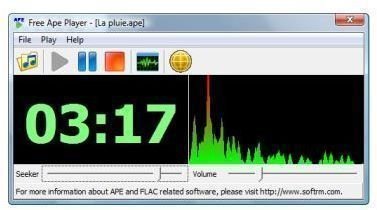 The player is named thus for its ability to play the APE audio format. This basic player, which is a 1.4MB download, also supports MP3 but not other audio file formats. This player should be an automatic choice if you're looking forward to playing only these file formats. For your information there are very few free players that can support the APE format. You'll be disappointed though if you're looking to create playlists of your favourite songs and the large timestamp in the middle of the interface may not be to your liking.
Auto MP3 Player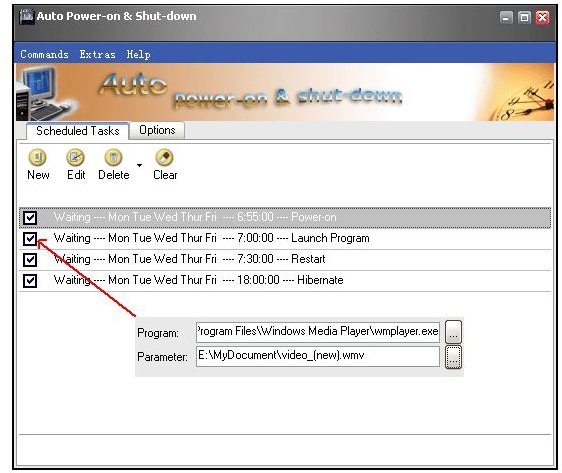 A cool feature of this player, developed by lifsoft.com, is its ability to wake up your computer from sleep mode to play your MP3 songs. The program also has the ability to turn your computer off or put it in the hibernate or standby mode.
These features allow you to resume work on your computer – open files, resume browsing your website etc – at any time you wish to continue working.
So, if you wish to play back (or stop) your MP3, WMA or WAV files at any specific time, Auto MP3 Player is the program for you. For these cool features you would have to fork out $24.95 and you can pay through Paypal. Download a trial version at the developer's website to test drive these cool features first.
Radio and MP3 Player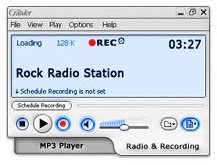 Apart from listening to your favourite MP3 songs, are you also looking forward to listening to your favourite Internet radio station? If so, Radio and MP3 player is the MP3 player software program will be your cup of tea.
What's more, the program allows you to record your favourite songs from Internet radio stations, not to mention scheduling your recording sessions. You wouldn't believe that this program is offered free at the developer's website at mp3radio.com.
An extensive help section is provided especially to help you manage the Internet radio section, including the recording part.
The above roundup is only the tip of the iceberg when it comes to MP3 player software programs. You would have noticed that if you want a program that plays back MP3 files without the bells and whistles, you would not have to fork out your hard-earned cash at all.