The Best Indoor Digital TV Antenna: Top 5 Recommendations & Tips on Finding The Best Indoor Digital TV Antenna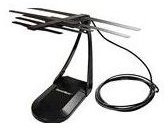 Introduction
You need a television antenna or aerial to receive over-the-air signals broadcasted by your local TV station. For many reasons one is forced to use an indoor or a set-top antenna. The size of the indoor digital TV antenna and the design style could be first level decision issues. For indoor digital TV antennas, size is always important. The design style matching your decor could be important to many too. It is also important to remember that if you had a good antenna that worked well before the analog switch-off, it should work well with your digital TV that you bought recently. There are no essential differences, even though the marketers would probably try to push a pricier one for HD digital TV use. Read more about general issues in these two articles: How to Improve HDTV Reception and How to Choose The Best Digital TV Antenna.
Range & Gain
So, what should you look for when trying to find the best indoor digital TV antenna?
Range and gain. These are typically two parameters specified by manufacturers for antennas. Range specifies the distance from the transmission point where signals can still be received. This depends on so many factors that it is not a very reliable parameter. Prime factors in determining the range are the height of the transmitting tower and the height of the reception antenna and a clear signal path between them. With an indoor digital TV antenna, usually there is no clear direct path for the signal and signal strength is lower than what you can expect with an outdoor antenna.
In indoor digital TV antennas, gain specification is a more important performance parameter. The higher the gain of an antenna, it is able to work better with lower available signal strength. So, look for an antenna that has higher gain. Some antenna designs include an amplifier to increase gain. So, if you are a little further away from the transmission tower, or deep inside a crowd of skyscrapers, an indoor digital TV antenna with an amplifier may be a good choice. If you have a mix of VHF and UHF stations then look for an antenna that covers both bands, with UHF only stations you can get by with a UHF only antenna.
Five of The Best Indoor Digital TV Antenna Options
We discuss here five products available from Amazon that have high user satisfaction ratings. Learn more about choosing an antenna by reading HDTV Antenna Recommendations.
This selection includes indoor digital TV antennas that come in a range of prices. You could buy one of the best indoor digital TV antennas starting from about $10. The products listed here each have a rating of 4 or more (out of a possible 5). As you can see here, the designs are nice so pick one that fits well with your home decor. Choose a ordinary one that does not cost much if you are close to the transmitting centers. When you are some distance away, buy one that has amplifiers built-in. You do have a wide choice and finding the best indoor digital TV antenna that is right for your use should not be difficult at all. You may also be interesting in reading The Top 3 Best Indoor HDTV Antennas (for 2009).
The top five of the best indoor digital TV antenna products are as follows. They are linked individually to Amazon pages for quick access.
3. Terk HDTVa