Best Sounding HTIB of 2009-2010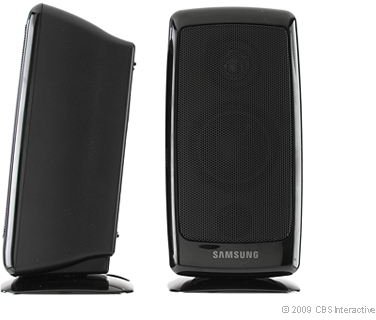 Overview
There are simply too many home theatre systems in the market; but not all of them are worth your money. So, let us take a look at some of the best sounding HTIB. We've formed this list by considering all the aspects of these home theater systems, not just their music playback capabilities.
Samsung HT-BD1250: The Best-in-Class Sound Quality at Reasonable Cost (5 out of 5)
The Samsung HT-BD1250 is a powerful 5.1 system that comes with 4 small front speakers, a sub-woofer as well as a slim center channel. It has an in-built Blu-ray player, which nearly matches the capabilities of the Samsung BD-P3600, except for the 7.1 analog outputs.
Coming to the salient features of the Samsung HT-BD1250, it has got full Profile 2.0 compatibility, capability to stream content from Pandora & Netflix. It has onboard decoding for DTS-HD Master Audio, & Dolby TrueHD, and an Ethernet port too.
Its compatibility with Samsung LinkStick WIS09ABGN USB Wi-Fi dongle is yet another interesting feature, but unfortunately not too many buyers take interest in the dongle, after looking at its hefty $75 price tag.
Note: In order to access Netflix/Pandora facilities or BD-Live features, you will require internet access.
The Samsung HT-BD1250 overcomes the downsides of Sony HT-SS360, and comparable home theater systems with its onboard decoding and media streaming capabilities from Netflix and Pandora.
On the downside, the Samsung HT-BD1250 lacks automatic speaker calibration, and video inputs. More so, it has certain usability issues, and its PC streaming feature is rather useless.
In a nutshell, Samsung HT-BD1250 undeniably delivers the best-in-class sound quality, and comes with iPod dock as a part of the package. It has amazingly fast Blu-ray load times and excellent image quality on Blu-ray movies at a fairly reasonable price, not to mention its attractive exterior design.
You can buy Samsung Ht-BD1250 at Amazon for just $449
Sony HT-SS360: An Inexpensive HTIB from the house of Sony (4 out of 5)
Sure thing, Sony has been the leader in the world of home theater systems, and the Sony HT S360 is a powerful contender in the arena. The HT SS360 comes with four identical speakers, a subwoofer, as well as a tiny center channel.
When you consider the looks, probably you may not like the idea of your front speakers having plastic cabinets, but you can't expect too much in this price range. All the speakers come in dimensions of 4.1 x 6.5 x 3.1 inches and house a 2.6-inch cone driver.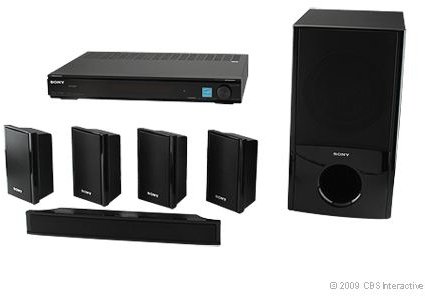 It comes with 3 HDMI inputs, which means it has an extra input slot in comparison to its close competitor Panasonic SC-HT56. But, unfortunately it can't be used as the main video switching hub for analog video devices, due to lack of analog video inputs (bad news for Nintendo Wii users!).
Sony HT-SS360 lacks the onboard decoding for latest Blu-ray soundtrack formats, DTS-HD Master Audio & Dolby TrueHD, but it doesn't make too much of a difference, as your Blu-ray player is most likely to have the onboard decoding feature, isn't it?
All in all, the Sony HT-SS360 is a lightweight Blu-ray-ready 5.1 home theater system that plays some serious walloping sound, and its subwoofer simply delivers the best oomph! The super svelte center speaker hardly weighs 14 ounces, but it means serious business in terms of music playback.
It also comes with automatic speaker calibration, three stereo analog audio, and three digital audio inputs. Overall, it is an inexpensive home theater system but it lacks onscreen display, and doesn't come with iPod dock either.
Price range: $224.99 - $349.99
Sony HT-SS360 is available at Amazon around $300 mark.
Yamaha YHT-791BL (4 out of 5)
Well, if you're looking for a powerhouse 7.1 home theater system with excellent sound quality, then YHT-791BL is the best bet. It comes with four HDMI inputs, but lacks the analog multi-channel input option.
On the positive side, it includes onboard DTS-HD Master Audio & Dolby TrueHD decoding, as well as a component-size AV receiver. Its two-way speakers' quality makes it one of the best sounding HTIB, and surround speakers as well as subwoofer take its capabilities to the next level.
You get an iPod dock included with the package, and the YHT-791BL can also up-convert analog video signals to 1080p resolution format.
What's more, its automatic speaker calibration system is quite impressive and it has a modular design that permits you to swap out its subwoofer or speakers in lieu of better deals from Aperion, Definitive Technology, Klipsch, Energy, and the likes of them. The sub-woofer is a bit overwhelming for smaller rooms, so you may consider changing it.
It is less expensive than its close rival Onkyo system, and turns out to be an awesome all-in-one HTIB in a reasonable budget.
Suggested Reading
Depending upon your specific requirements and budget considerations, you may want to choose one of these awesome HTIBs. Remember, a home theater system is going to be a long-term investment (unless you're someone who changes his/her home theater every two years), and it would be a good idea to wait for few more days to save enough money to buy the best deal in town; don't compromise on your choice just for the heck of saving $50-$100 today, otherwise you're most likely going to regret on your decision later on.
If you need wireless connectivity and advanced functionalities in your home theater system, you may also want to take a look at the Best Wireless Surround Sound Systems & Top Blu-Ray Players of 2009