Top Home Theater Sound Systems Of 2009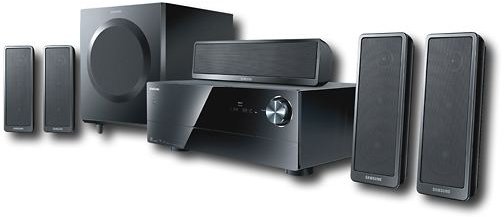 Top Quality 5.1 and 7.1 Surround Systems
If the centrepiece of any home theatre setup is the huge high definition TV, then the crowning glory must be the sound system that accompanies it.
Without that most vital of enhancements, no TV viewing area can genuinely own the title "home theatre" until the sound is sorted out.
There are low cost sound solutions that offer good results on the market, but realistically anything short of 5.1 (5 satellite speakers and one Low Frequency Effect or LFE channel) isn't giving the best return on your home theatre setup.
Currently on the market are countless 5.1 sound solutions, while 7.1 is becoming more and more popular. Below are two 5.1 solutions from Paradigm and Samsung, as well as a Sony 7.1 surround sound system.
Samsung 650W HT-AS730ST/XAA
The Samsung 650W 5.1-Channel Home Theater System is a powerful 5.1 solution comprising a component receiver, 4 satellite speakers, 1 center speaker and 1 subwoofer.
Various connection options are available, while the receiver permits full 1080p pass-through allowing for untouched high definition sound to be reproduced in your home theatre entertainment center. 500 Watts is output through the central channel of this system, while 100 Watts is available for each of 2 speakers that can be added for full 7.1 channel delivery.
The 150 Watt subwoofer provides a rare, deep and rich bass tones while reliable sensitivity (88dB ) is provided, delivering unmatched sound reproduction.
Regular price for this setup is $499 – look for sale prices on www.bestbuy.com.
Paradigm Cinema 90 CT 5.1 Home Theater Surround Sound System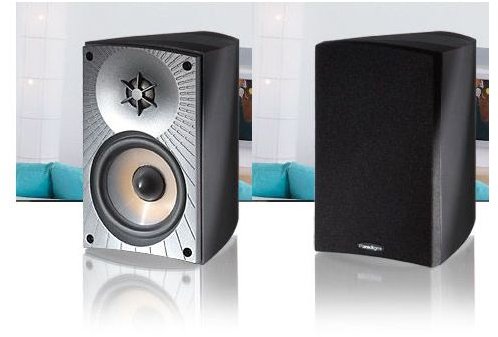 From Paradigm comes the solid, defined output of the Paradigm Cinema 90 CT system. Delivering 5.1 surround sound (5 speakers and 1 Low Frequency Effects channel), this surround sound system outputs at 360 watts with low frequencies (up to 110 Hz) and high frequencies (as high as 20 Khz) reproduced with astonishing results.
Removable covering grills give the Paradigm Cinema 90 CT a versatile edge within your home theatre's décor, while each Paradigm speaker is designed to limit unwanted resonances and cut out other interference.
Available for $849 on Amazon, the Paradigm Cinema 90 CT is one of the top 5.1 channel surround solutions.
SONY SA-VS350H 7.1 Channel Surround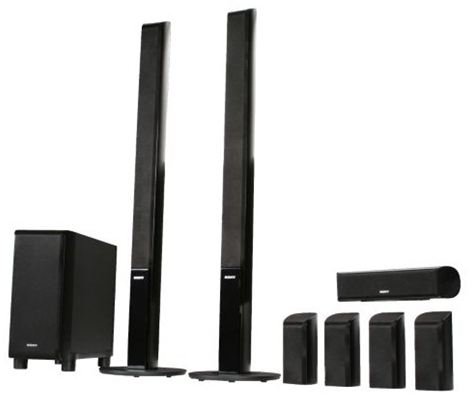 The SONY SA-VS350H is a 7.1 channel surround sound system, featuring two floor-standing front satellites, two rear speakers, one center speaker and a compact 150W subwoofer.
Only counting 5.1 so far? That's because this system ingeniously combines two speakers into each rear stand, and these can be split apart allowing for a full 7.1 channel setup!
Power isn't the name of the game with this home theatre sound system – the SONY SA-VS350H provides crystal clear sound quality at 120 Watts with 81dB sensitivity to furnish your home theatre with the optimum surround sound experience.
Available from $699, check current prices for this system on www.newegg.com!