LG Home Theater Systems Review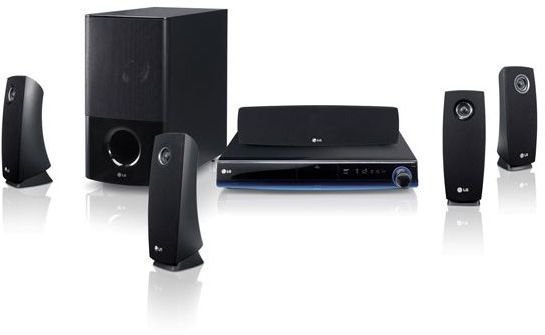 Introduction
LG has rolled out very good products at very competitive prices. Especially with the increasing popularity of Blu-ray discs, the standard resolution DVD-based home theater solutions are in the last days. In this article, we will review the top two products from LG, the all-in-one solutions for Blu-ray home theater.
LHB 953 (2 out of 5)
LHB 953 is LG's entry level home theater in a box. The set supports basic Blu-ray functionality with Pure HD audio performance. However, it adds some features which lack in some competing products, such as iPod dock and Netflix, Pandora, YouTube, and CinemaNow streaming media access. The DVD upscaling feature is almost a standard in the Blu-ray players, which we also see in LG's LHB 953.
The system has an active cooling system at the back (a fan) in addition to the vents which we see in all products. This may be a downside, though, because a fan means a dust-collector. The volume is crisp and the quality is adequate. The native Ethernet connection allows you to update the firmware and access to the online content. The system does not have a graphic equalizer, but has twelve preset modes. The preset modes really work well; if you switch to the news profile, the spoken words are heard very clearly and well separated from the background music and effects. The cables to the front left and right speakers seem short at a first glance, but they are measured carefully to allow a good 5.1 placement.
LHB 953 lacks many features: no video inputs, no automatic speaker calibration and design is very questionable. If you are very tight on a budget, I can safely say that the system has a below-average price to performance ratio (listed at USD 400 at Amazon.com) but if you can extend your budget more, I suggest you to take a look at LHB 977 and other competing products.
LHB 977 (4 out of 5)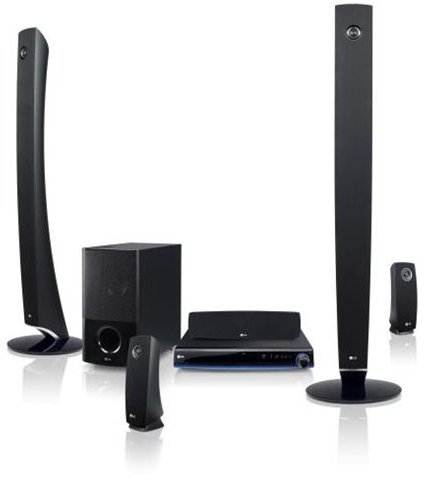 LHB 977 is not just a major upgrade to LHB 953, it offers a lot more than that. The system supports Pure HD sound performance with Dolby Digital Plus, Dolby True HD and DTS-HD. In addition to all the features in LHB 953, you have the USB 2.0 media host and most importantly an additional HDMI connection which lets you plug in any device that supports the connection: cable boxes, game consoles, etc. BD Live is also supported, but the supported connection is a wired Ethernet connection, not a wireless one.
Conclusion
LG's LHB 977 is a very good long-term solution for your Blu-ray home theater needs. It currently packs all the features that you would want to have in your home theater setup. The system is a very good choice for a home theater in a box, both in LG's Blu-ray line of products and in competition. We can safely recommend the product to all prospective buyers.