The SMART Antenna for Digital TV - Are They Compatible with your DTV Converter Box? A Look at SMART antenna models - Sylvania Smart Digital Antenna and RCA ANT2000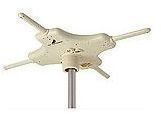 What Is a SMART Antenna for Digital TV?
A SMART antenna is one that can amplify TV signals and control the direction of the antenna to receive the best channel reception. Also called "adaptive array "antennas, it uses signal-processing algorithms to track, enhance and locate TV signals with little interference. They can be used with DTV converter boxes or digital televisions with SMART TV support (EIA/CEA-909 compliant).
Where Can I Get a SMART Antenna?
Unfortunately, SMART antennas are not easily available due to lack of consumer information and higher cost. The following are a couple models you may want to look into online or at your local electronic stores:
**
Sylvania SMART Digital Antenna DTA500
While it is generally designed for outside use, you can install it indoors with your SMART antenna compatible DTV converter box. The built in amplifier can maximize any weak TV signals for all of your region's VHF and UHF channels. Average cost is about a hundred dollars.
RCA ANT2000
The RCA ANT2000 is designed especially for DTV converter boxes. It is optimized for HDTV reception for both VHF and UHF channels. The design allows you to lay it flat or hang it on a wall. Price is around sixty to eighty dollars.
Compatible SMART Antennas for DTV Converter Boxes
Here are some DTV converter boxes you may want to consider purchasing:
RCA DTA 800/ RCA ANT2000M
Tivax STB-T9
GE 22729
GE 23333
Apex DT250 or DT502
Cadence DTV C-9
Craig CVD506
iNet Access SSR 1921
Do You Need a SMART Antenna?
The SMART antenna for digital TV is a newer version of a powered and amplified TV antenna. They are best suited for areas that have weak TV signals (without the use of cable or satellite). The conversion to DTV has caused some confusion regarding this issue. However, you will still need an antenna regardless of whether you have a TV with a digital tuner or have purchased the DTV converter box. Whether or not you need a SMART antenna may depend on your locality to TV signal stations. In many cases, a standard digital antenna will work (RCA, Apex, or Terk are popular brands). Areas that have weaknesses with digital signals are:
Atlanta
Boston
Cleveland-Akron
Los Angeles
Minneapolis
New York
Philadelphia
San Francisco
Seattle
Washington, DC