Sony BRAVIA DAV-DZ170 Home Theater System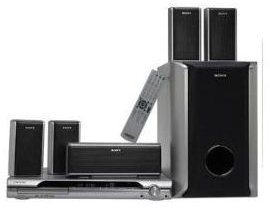 To be sure, Sony shines at state-of-the-art home theater systems; but this low-end model provides enough punch with this 1000-watt 5.1 receiver, speaker and DVD player system to please even a discerning enthusiast. DVDs are up-scaled to high-definition quality, and the surround sound receiver reproduces audio in Dolby Pro Logic, Dolby Pro Logic II, Dolby Digital, and DTS decoder formats.
The space-saving speakers include two mains, two rears, a center and a subwoofer. Setting them up to sound just right is no problem with the Digital Cinema Audio Calibration feature. An optical digital input ensures that the sound quality you get from your DVD player is superb.
Additional features include BRAVIA Sync capability that operates compatible devices with just one remote control, and an FM tuner in the receiver.
The Sony BRAVIA DAV-DZ170 Home Theater System is available at Amazon for $209.99
Sony BDVIS1000 5.1Ch Blu-ray Disc/DVD Home Theater System
If you really want to get a state-of-the-art Sony receiver, consider the BDVIS1000. It has an integrated Blu-ray player and provides semi-wireless connections for the rear speakers that use S-AIR Digital Wireless Technology.
The reason the system is semi-wireless is that you have to have place the included receiver box near the back of the room. The wireless signal is sent to that box, and the speakers receive the signal from the box via wires; so the benefit is that you only have wires running to the back of the room for a short distance. This provides for better surround sound. An additional benefit is that the S-AIR technology theater system allows you to send audio to speakers in other rooms as well. If you want to pump music throughout your home, you can do it with the BDVIS1000 with an optional attachment.
The speakers include two fronts, two rears, a center and a subwoofer. If you saw them, your first reaction might be a chuckle. However, the joke might be on you. Excluding the subwoofer, the speakers are the size of a golf ball. Really. But they will handle every bit of the 50 watts pumped to them by the receiver; and the 100 watts that power the subwoofer ensures you miss nothing in the audio. This system requires little space for big sound. A microphone is included to help you calibrate the sound in your room to perfection.
The Sony BDVIS1000 5.1Ch Blu-ray Disc/DVD Home Theater System is available at Amazon for $999.00
Sony BDV-E580 Blu-Ray Disc Player Home Entertainment System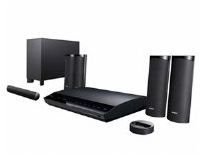 If you are ready for Blu-ray, upgrading to the BDV-E580 is for you. Like its little brother, this system provides 1000 watts of power to 5.1 channels. That breaks down to 165 watts for the subwoofer and 167 watts for the other channels.
A few extra features are included with this model: built in Wi-Fi for connection to the Web, Internet audio/video streaming from Netflix and other sources, iPod and iPhone docking, and two HDMI inputs with pass-through support. Pass-through support allows you to connect additional high-definition devices such as full HD 3D-ready HDTVs, Blu-ray players and gaming consoles.
The speakers are small and sleek, but don't let that fool you. They can handle the power and recreate realistic, crystal-clear audio ranging from booms and blasts to love songs and symphonies.
If you've never experienced Blu-ray, Sony's included player is a great way to open your eyes to a new world you've been missing with VHS and DVD. The integrated Blu-ray player produces full HD 1080p Blu-ray Disc movies for incredible audio and video that you would otherwise not know was there.
The Sony BDV-E580 Blu-Ray Disc Player Home Entertainment System is available at Amazon for $423.92
Sony BDV-E780W Blu-Ray Disc Player Home Entertainment System

Taking another step up in quality, the Sony BDV-E780W maintains all the great features of the BDV-E580 — 1000 watts, 5.1 surround sound, Internet streaming, built-in Wi-Fi, two HDMI inputs with 3D pass-through, and iPod and iPhone docking — and adds even more to make the system more convenient. New features include a universal remote and a wireless rear speaker setup.
If you have ever had to deal with hooking up rear speakers, you know what a hassle it can be. Even after they are connected, they are easy to trip over or knock loose. That can even mean damage to a speaker that is knocked off the wall or a stand. You don't have to worry about that with the BDV-E780W. Just place the rear speakers where you want them and the wireless system will find them. It couldn't be more convenient.
The Sony BDV-E780W Blu-Ray Disc Player Home Entertainment System is available at Amazon for $599.99
Resources
Descriptions and Images: Amazon.com