5 HD Radio Tuner Components for Home Theater Systems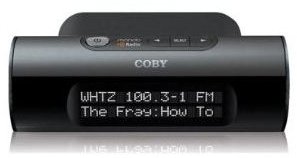 Components
The advent of HD radio components is similar to the change from cassette tapes and vinyl records to CD: The sound cannot be beat. Let's face it, the sound of AM compared to FM radio is atrocious. There is good news, though: With a HD tuner you can get FM quality sound from an AM station.
Better yet, you can get CD quality sound from your favorite FM stations. Additionally, there are some hidden gems available in high definition, such as stations in-between stations regular broadcast stations. Here are some HD tuners you may want to consider:
Coby HDR-650 Component HD Radio Receiver
The Coby is a nice looking unit that will blend right in with your home theater components. It has everything you need to get into the HD groove. 10 AM & 10 FM presets help you remember where you found that groove. You can listen to analogue broadcasts as well crystal-clear digital. A backlit, high-contrast LCD display makes navigation easy, and the remote control makes it even easier. Necessary antennas are included.
The Coby HD-650 is available on Amazon for $79.99
Sony XDR-F1HD Tuner

The name Sony itself tells you that the XDR-F1HD is a good product. In addition to digital quality reception, the Sony offers FM Multicasting – the capacity to receive more than one program stream over just one FM frequency. The adjustable dot matrix LCD makes the backlit display easy to read while it shows the name of the performing artist. A remote control is included.
The Sony XDR-F1HD is available Fry's Electronics for $99
Sangean HDT-1 HD Radio Component Tuner
The HDT-1 offers full digital radio, as well as hybrid radio reception – a combination of digital and analogue – that allows for more FM channels along with text information about the broadcast. The Sangean features Program Associated Data Services that displays music genre, artist, song title, and even album name. Other convenient features include a backlit LCD display, auto memory presets and an IR remote control.
The Sangean HDT-1 is available at Amazon for $158.
Sangean HDT-1X HD Radio Component Tuner

The HDT-1X is the big brother to the HDT-1. It offers more presets – 20 AM and 20 FM – up and down station search, a signal strength meter, a clock, an Optical Audio Output for great sound, and split audio mode. The split audio mode allows you to listen to digital on one channel and analogue in the other. That helps with comparisons. It also has an HD only search that eliminates having to search through analogue when you only want digital.
The Sangean HDT-1X is available at Amazon for $199.84
Onkyo UP-HT1 Radio Tuner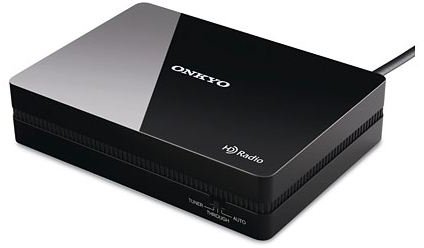 The UP-HT1 HD radio tuner is design for use with Onkyo receivers. It comes with a proprietary Universal cable connector that connects it to an Onkyo receiver. The cable carries the audio and AC power, as well as commands from the receiver's remote control. It has 40 memory presets. A rear-side Universal Port input allows for "daisy chaining" a compatible device, such as an Onkyo iPod Docking station.
The Onkyo UP-HT1 HD Tuner is available from Crutchfield for $149.99
Resources
Images and Descriptions: Amazon.com, Crutchfield.com, Fry's Electronic: Frys.com