When we talk about the Internet, the general conception is everything that is offered there is free. After all, we get to read blogs, articles, download free ebooks and even listen to online radio and watch videos over video sharing sites for free.
The availability of such free content may lead us to think that even free satellite TV is available over the Internet. This could be compounded by the knowledge of free Internet TV software that would allow us to watch hundreds, if not thousands, of satellite TV channels from all over the world.
Many have been tempted to buy such a software package in the hope of streaming free online satellite TV channels to their home theatre systems. More often than not, these folks fall for an advertising gimmick, which does not fulfill the promises it makes.
The Truth
Satellite TV stations do not offer free broadcasts over the Internet. If they do, who would want to sign up for their services in the offline world? They would soon be out of business. Makes sense?
Why then do certain parties insist that free Internet Satellite service is possible? Their aim is to hoodwink folks who are not Internet savvy. Of course, you get to watch some shows over the Internet. However, they are free services readily available to anyone, irrespective of whether you have the free satellite TV software.
These software programs, on the main, do nothing more than directing you to websites of television stations where you can watch previews of TV shows or limited episodes of a particular show. You can easily find these websites if you do a Google search for such stations.
The bottom line is you can only watch such satellite TV shows if you pay for a service like that offered by DIRECTV. That does not mean you cannot watch free satellite TV over the Internet in a limited way. Here are some websites of television networks that allow you to do so.
Free Limited TV Shows
ABC allows you to watch up to 24 full episodes of TV shows at its website via its abcplayer. At the time of writing, episodes from such shows as Grey's anatomy, Private Practice, Modern Family, No Ordinary Family and Good Morning America are available for viewing.
NBC allows you to view selected episodes of such programs as The A-Team, The Biggest Loser and recent episodes from shows such as Who Do You Think You Are, Perfect Couples and Parks and Recreation, to name a few. Both these stations limit viewing to folks in the United States.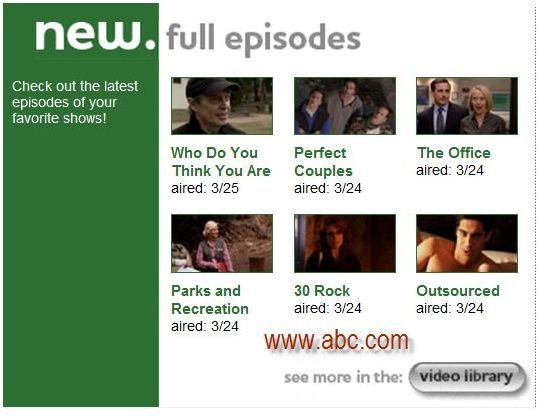 If you're looking for more than TV shows of the entertainment type, then you can head over to Fox which offers free video content on news, and the latest happenings in the field of technology, health and even scitech.
The safe bet when it comes to watching free online satellite TV programs to check out the website of your favorite television network. Rest assured, you could get to stream some limited TV shows to your home theater system especially if you're in the United States.
References
Article information based on writer's experience with free Internet TV software. Additional information gleaned from https://askbobrankin.com/free_satellite_tv_on_pc.html
Screenshot by writer.