Top Audio Equipment Cabinets: Buying Guide and Recommendations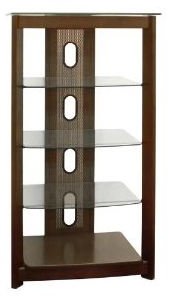 Home audio equipment cabinets need to be functional as well as stylish to provide storage space for your equipment as well as a pleasant addition to your room's design. Stability and security are important features that these pieces of furniture should have since they will be holding your precious electronics, so that should be your primary concern next to function and style.
Poundex 5-Tier Glass Top Media Shelf
Made of solid wood with a chocolate color and tempered glass, this shelf offers an elegant classic design. It offers five levels of storage space that you can use to store audio components and other media-related items like DVDs, CDs and video hardware. Its look makes it perfect for simply displaying your electronic equipment like speakers, video game systems and media players. It features slots that you can use to manage the cables of your equipment in the back side of the shelf, giving you a cleaner and more minimalistic look. You can get this from Amazon.com for $148.45.
40-Inch Component Audio Side Rack
This component cabinet features two levels of storage for electronic equipment such as media players and gaming consoles. Both levels have backside slots that allow for easy management of cables. The top of this cabinet can be used to hold a large television, thanks to its 40-inch width. It has two lower levels enclosed with a glass door. These levels can be used for storage of DVDs, CDs and other items that may or may not relate to media playback. You can buy it for $201.91.
Bush Furniture Sonoma Audio Cabinet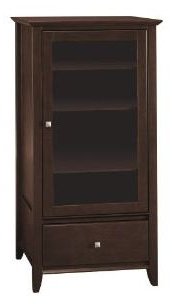 This cabinet is designed to blend perfectly with the rest of your furniture thanks to its mocha cherry veneer finish. A tempered glass door covers three shelves that can be adjusted to accommodate different sizes of audio or video equipment. It is designed to be tip-free, so it is perfectly secure even when it experience different kinds of impact. A bottom drawer slides out and provides storage for different kinds of items. It comes disassembled so home assembly is required. You can purchase this online for $335.
Bush Furniture Savannah Audio Tower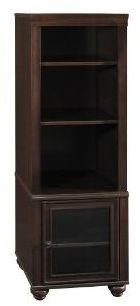 For people who want a more compact cabinet for their electronics, this tall cabinet will work for them nicely. The w topmost shelves are adjustable, which means it can handle different sizes of equipment. Its deep mocha cherry finish and dark brass pulls give it an old elegant look while the self-closing hinges provide an efficient way of keeping the door at the bottom always closed and secure. Its tall design give it a welcoming look and a stable feel that is perfect for any living room design. Get this compact cabinet for $229.
Omnimount Echo A3 Echo Component Tower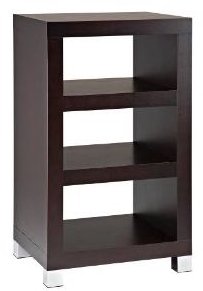 Audio equipment cabinets need to be accessible and at the same time visually appealing since it will be a part of the room's design. This component tower provides a bold look to any living room while providing spacious storage to all kinds of electronic devices such as DVD players and audio systems. This cabinet is part of the Echo line that includes tables and other shelves, which means you can get those other pieces of furniture to provide your room with a consistent design or you can just get it as a stand alone piece. Its feet are rubberized so you are assured that it will stay in place, providing stability and security to your electronic equipment. Buy this sound equipment cabinet for $149.
Conclusion
Out of these five cabinets for audio equipment, the Bush Furniture Sonoma Cabinet is most recommended because it has its own cabinet door for dust protection. These cabinets are all available for online order from Amazon.com.
References and Image Credits
https://www.amazon.com/Poundex-5-Tier-Glass-Media-Chocolate/dp/B002XUKXD4/
https://www.amazon.com/40-Component-Audio-Side-Rack/dp/B001LUNDJS/
https://www.amazon.com/Bush-Furniture-Sonoma-Cabinet-Cherry/dp/B000W8HWU6/
https://www.amazon.com/Bush-Furniture-Savannah-Audio-Tower/dp/B000W8OTE8/
https://www.amazon.com/Omnimount-Echo-A3-Component-Tower/dp/B0018C1OU4/