How to Choose the Best Indoor TV Antenna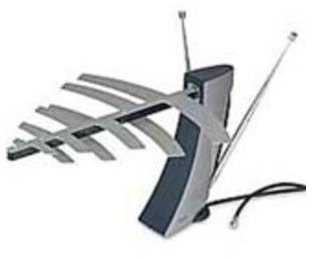 Are you always on the move and don't want to go through the hassle of dismantling your outdoor antenna every time you move base? If so, an indoor TV antenna may just be thing for you.
The other reason for opting for an indoor antenna is if you live in the heart of a big city where TV signals of free-to-air networks are strong and an indoor aerial is sufficient to pick up the signals without a problem.
Now that you've decided that an indoor antenna is the right choice for your television viewing experience, you'll want to do a little `important' homework before deciding on the best indoor TV antenna.
Homework
Firstly you want to go to AntennaWeb and key in your address and zip code to learn more about the type of antenna you would need.
Then you would want to find out whether your antenna needs to support UHF or VHF signals. Most indoor antennas support both these signals.
The next thing would be to decide whether the receiving range specified for the antenna is sufficient for your needs. Depending on the model, indoor antennas are limited to receiving signals from a few miles away. If the towers are more than ten miles away you should consider acquiring an indoor antenna that comes with an amplifier.
Now that we have seen how you should go about choosing a suitable indoor aerial, let's look at a range of indoor aerials that should appeal to you and fit your requirements.
Terk Technology HDTVi
This antenna is optimized for both UHF and VHF signals, specifically channels 2 to 69, tuned for optimal HDTV reception, It brings you clear reception from more HDTV stations than your usual indoor TV antenna.
This model provides for easy cable management. The antenna's output cable can be routed via the front or back.
The antenna comes with high gain capability which enables it to pick up signals from distant stations. With a high back-to-front ratio, it does a good job in doing away with unwanted or undesirable stations. What's more, you have the flexibility of mounting the antenna vertically or horizontally.
At the time of writing, the HDTVi antenna is priced at USD 25.96 at Amazon
RCA ANT1650 Flat Digital Amplified Indoor TV Antenna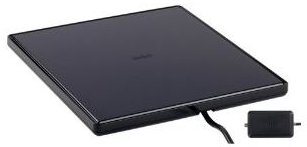 Are you looking for an indoor TV antenna that doesn't stick out like a sore thumb in your living room? If so, you would be impressed with the design of this model.
The one thing that would leave you impressed is the 360 degree digital TV reception. It does way with the need for antenna adjustments and you can place it in whatever position you want. Also, the built-in amplifier enhances TV reception when a weak signal is detected.
This model is priced at USD 38.98 at the time of writing and is available from Amazon.
Philips SDV2740/27 Indoor TV Antenna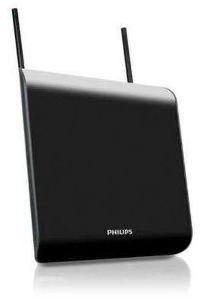 This HDTV/UHF/VHF/FM antenna uses the 2-way positioning system to ensure you receive the strongest signal vertically and horizontally. The amplification is adjustable and the low noise amplification can be maintained up to about 18db so that you get quality reception.
Apart from there being a manual option for precise tuning to get the best reception, there are also mounting options for you to choose so that you could receive the best broadcast signals. Apart from placing it on a counter or your set top box, you could also mount it on the wall with the accessories provided.
At the time of writing, this model retails for USD 32.79 at Amazon.
Philips SDV3132 - HDTV Antenna - Plate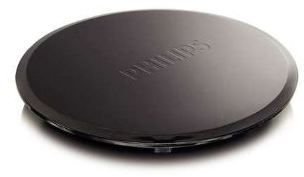 If you think that most designs of indoor TV antennas look like weird stuff from some science fiction movie, and you want something more pleasing to the eye, you would want to seriously consider this antenna plate. As its name suggests, it comes in the shape of a plate.
Design aside, this antenna is about 11 inches in diameter and needs very little adjustment to get your favorite broadcast signals.
At the time oif writing, the Philips SDV3132 indoor TV antenna retails for USD 29.32 at Amazon.
Philips SDV5122/27 13 dB Amplified Indoor HDTV Antenna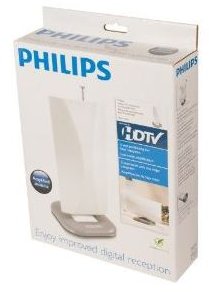 If amplification is what you need for your broadcast signals, this is one indoor antenna model that you should seriously consider.
This HDTV/UHF/VHF antenna with a design that would complement the look of your home theatre system, can be set up in a horizontal or vertical position for UHF reception.
It provides an amplification of up to 13dB. In most instances, you will receive stronger signals which are almost noise-free with this antenna.
At the time of writing, this Philips amplified antenna retails for USD 21.99 at Amazon.
Take your time to explore the above options before deciding on the best indoor TV antenna that suits your needs.
References
https://www.antennaweb.org/aw/welcome.aspx
Product details from Amazon
Image Credits : Amazon