Best Price Sharp 60'' LCD TV Buying Guide

Your 60 Inch Sharp LCD TV
Sharp is one of the oldest and well-known TV makers. The company has a long history and makes awesome quality goods. When you buy a Sharp TV you can rest assured that it will remain in good condition for a long time and won't let you down. You can also sleep safely knowing that the TV uses the very latest compatibility hardware so even in four or five years, your TV will still work with whatever set-top-boxes, consoles and players get released in the future.
However, buying an LCD TV isn't going to be cheap. purchasing a mammoth 60 inch LCD TV is even more likely to put a huge dent in your bank balance. However, there is no reason you must pay full price. Below are some suggestions for knocking up to 40% of the RRP and get the best price Sharp 60' TV there is available.
Coupon Sites
There are numerous coupon websites out there and the vast majority work for both online and brick and mortar stores. They are a collection of coupon codes, promotion and sale advertisements which could save you up to 30% on the price of your sharp 60" LCD TV!
Retailmenot.com is definitely my favourite site at the moment. They always have thousands of electrical deals which are guaranteed to find you a best price sharp LCD TV every time. Simply go to the site and search for a 'Sharp LCD TV' and you'll be amazed at the amount of offers you get.
Also, be sure to search for coupons across all stores as they may simply advertise messages such as '30% of all TVs' - not just Sharp TVs. Click here for a list of the best coupon sites around.
Note that offers and deals are always expiring and changing so make sure to check back regularly.
Used TVs - Just as Good!
Often when shopping online and in retail stores we are pressured into buying brand new items and paying top dollar for them too. The second hand market is often looked upon as somehow 'lesser' and 'risky'. Although there are certain risks involved with not buying new, as with any product, used TVs are more often than not just as good as the new product once you shop carefully!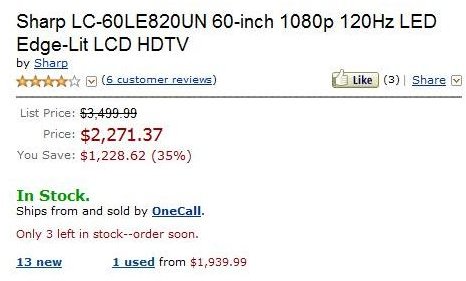 Check out trusted suppliers and sites such as Amazon.com and your local classifieds (craigslist.org is great for this). Amazon in particular is a favorite of mine as they list the new items along with their used counterparts so you get a good idea about price difference. You can also check the feedback of the used sellers to ensure the items quality. With this TV for example you save $1,200 off the RRP new and a further 350 dollars when bought used (as new condition)!
Auctions - Online and Offline
My final piece of advice is to check out auction listings. There are plenty of online auction sites, the most popular being eBay, where you can get some great deals. A top tip with online sites is to bid on days when there is bound to be low activity. Public holidays of mass celebration (4th July, St.Patrick's Day, New Years Day etc.). You can often save hundreds of dollars this way because you have less competition.
Also check out local auctions run by both private auction firms and indeed law enforcement agencies. You can get great deals!
Enjoy shopping!