Best Outdoor TV Antenna: Buying Guide & Recommendations

Introduction
If you are looking for the best outdoor TV antenna, you must take into consideration the strength of the signal you are getting in your area and what kind of signal you actually want. Signal reception is the first and most important thing you should think about when buying a TV antenna. Of course, since you are going to install this antenna in an outdoor setting, it wouldn't hurt if it blends well with your house's exterior design. Here are some suggestions for great outdoor TV antennas.
RCA Indoor/Outoor Digital TV Antenna
This antenna can be set up in an indoor setting or an outdoor setting. Its body can be customized with paint because of its paintable surface. This makes it easier for you to let it adapt to your house's exterior design. Putting it out of your house still makes it keeps your connection steady since it has a weather resistant connection that prevents interruption from the elements. It can easily be installed thanks to its mounting hardware and its one-piece design. Whether it is in your house or outside, you can be assured of a clear reception, especially with HDTV signals. This great reception is possible thanks to this antenna's ultra low noise amplifier and an 18dB power injector which boosts signals for both UHF and VHF.
Price: $25.96
Philips SDV2940/27 UHF Digital and Analog Indoor/Outdoor TV Antenna

This is a television antenna that can be set up in an indoor setting or an outdoor setting. It receives both digital and analog signals, giving you more choices of TV channels. It has a built-in feature that amplifies weak signals, assuring you that you will get the best possible reception you can in your area. Setting it up outdoors is easy with its compact design that is easy to handle. It already looks appealing with its sleek design, but you can still customize it thanks to its weatherproof paintable surface.
Price: $30.23
Channel Master 2016 Digital Advantage Outdoor Antenna

This antenna receives UHF, VHF and HDTV signals, giving you the widest possible number of TV programming choices. Installation is easy, and so is adjusting its position, thanks to its turning radius of 34 inches. You can install it in any outdoor setting whether it is on your roof, on your chimney, on your wall or even inside your attic.
Price: $33.20
RCA ANT751 Outdoor Antenna Optimized for Digital Reception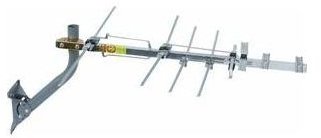 This outdoor antenna is designed to receive digital signals. In many cases, it actually outperforms a lot of larger antennas. Its reception can reach up to 40 miles without losing signal quality. It can receive VHF, UHF and HDTV signals. Installing it is quite easy thanks to its compact design. You don't even have to worry about setting it up in a very exposed area since it is made from durable materials that can withstand all types of weather.
Price: $38.46
Channel Master 3010 Outdoor Rooftop Antenna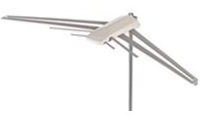 This simple but considered as one of the best outdoor TV antenna products receives UHF, VHF and TV signals. Its traditional design gives this antenna an elegant look. This seemingly simplistic antenna packs the ability to receive both analog and digital signals, as well as FM radio. Its reception range can go as far as 30 miles for TV and 45 miles for radio. It has an adjustable body, thanks to its turning radius of 30 inches.
Price: $38
References
https://www.amazon.com/RCA-Outdoor-Digital-Antenna-ANT806/dp/B000VS8GSE/ref=sr_1_7?ie=UTF8&qid=1293937650&sr=8-7
https://www.amazon.com/Philips-SDV2940-27-Digital-Outdoor/dp/B001K7ID60/ref=sr_1_3?ie=UTF8&qid=1293937650&sr=8-3
https://www.amazon.com/Channel-DIGITAL-ADVANTAGE-Outdoor-Antenna/dp/B0018BZJNS/ref=sr_1_4?ie=UTF8&qid=1293937650&sr=8-4
https://www.amazon.com/RCA-ANT751-Outdoor-Optimized-Reception/dp/B0024R4B5C/ref=sr_1_1?ie=UTF8&qid=1293937650&sr=8-1
https://www.amazon.com/gp/product/B0009FJEUS/ref=s9_simh_gw_p23_d0_i1?pf_rd_m=ATVPDKIKX0DER&pf_rd_s=center-2&pf_rd_r=0391HCQPBSWGRTD8BJAN&pf_rd_t=101&pf_rd_p=470938631&pf_rd_i=507846
Photo Courtesy of Amazon.com