Getting Started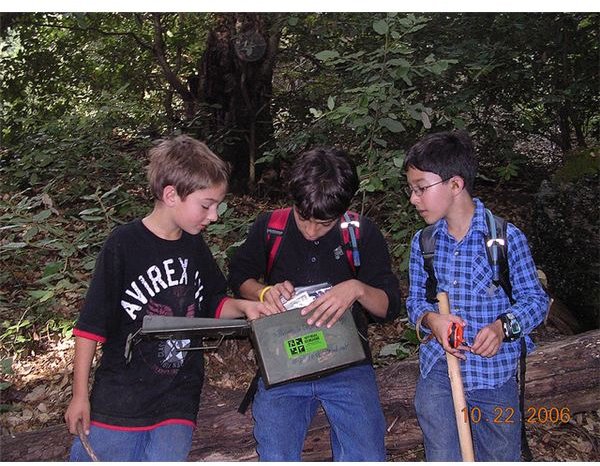 While most geocaching enthusiasts track down existing geocaches listed on websites such as Geocaching.com, you are not restricted to doing so with your students, although you certainly may choose to do so. You can decide what you want to teach your classroom using geocaching and then create your own geocache based on your needs. You might think geocaching would be great for a geography lesson, which is true, but you can tailor the activity to nearly any other type of classroom as well.
Teaching Math and Science
If you are weary of hearing students in your math classroom lament, "I'll never use this stuff in the real world," try using geocaching for a math lesson. Bring angles to life by hiding or finding the coordinates of a cache at the top of a small, sloping hill, or use one to determine the area of a large park.
Select a location. Break the classroom down into several groups and give them each a list of items they need to find along the way. These can vary depending upon your environment, but could include types of rocks, plants or pictures of birds taken with digital or disposable cameras. The first group to complete their list wins, and the whole class will benefit by working as teams and experiencing nature firsthand.
Your classroom can be on the hiding instead of the seeking end of the activity, as well. Create several geocaches and include items the classroom can track together, such as "Geocoins" or "Travel Bugs," which can be tracked online. Determine which geocache travels furthest.
Plant several small caches along a route, and give the classroom the coordinates of only the first one, which will contain a math problem and note cards with two or three possible solutions. Each solution will have new coordinates, but only the correct solution will lead to the next stash.
Social Studies Lessons
Motivate students to learn about local history by finding or planting geocaches that are located at historical sites near your classroom. Or, as with the math geocaching project, leave traceable geocaches and track their locations. The students can benefit by learning historical information regarding each location to which the geocache items travel.
Literature and Composition Studies
Use geocaching as a fun, active literature exam or for extra credit. Similar to the math activity, hide several geocaches along a safe route near your classroom. The first cache can contain a question regarding a book the classroom was assigned to read, along with a few multiple-choice answers. Each possible answer will have a coordinate, but only the correct response will get the students to the next location. Make sure incorrect answers send students somewhere secure so they will not get lost. For example, send them back to the bus or to a rest area where a chaperone is waiting.
Everything Else
Use your creativity and you can surely find benefits for using geocaching for most classrooms. Physical Education teachers can use it as a way to get out of the gym and make physical activity fun without necessarily being competitive. Art teachers can have students design and make imaginative containers, log journals and swag. The only downside may be trying to get your students back into the classroom!
References
Kids Geocaching: Flickr Creative Commons/BobnRenee