Review of the Sony Reader Touch Edition
Design (4 out of 5)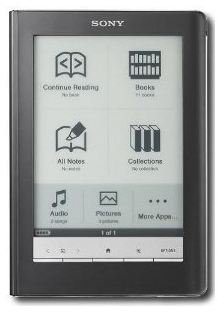 The first thing you will notice about the Sony Reader Touch Edition is its beautiful large touchscreen display, which makes use of E Ink Pearl technology. It is a very high contrast display. This gives your eyes an easier time viewing text and images, which makes using this e-book reader easy on the eyes even in extended periods of time, unlike some devices. The problem with its design, however, is its weight. It is quite heavy compared to other types of e-Book readers and that can be quite a problem if you like reading books several chapters at a time as it will cause some discomfort after a while. Generally, it can still be considered lightweight. You just need to let go of it every once in a while.
Features (4 out of 5)
With an E Ink touchscreen display, you get to read e-Books without worrying about screen glare. If you read all kinds of Sony Reader Review articles, you will realize that this is one of the most important features for both experts and casual e-Book reader users. Aside from a comfortable reading experience, this device also offers audio playback. This is thanks to the touchscreen navigation and user interface. It is effectively a great time killer because of this.
One thing that is sorely missing from this device is wireless connectivity. It is not capable of 3G or Wi-Fi connections, which means all e-Book transfers must be done via cable connection. This is an important aspect to consider, since it can be quite inconvenient to obtain books if you are not in front of your computer. Its support for Memory Stick Duo and SD memory card expansion is beneficial, but it is still quite inconvenient compared to wireless connectivity.
e-Book Selections (5 out of 5)
Having support for the ePub format gives this e-Book reader a great advantage over other devices that do not support this eBook format. The number of books available in the ePub format is simply staggering, so this means you will never run out of good classic books to download and read. If reading classic literature is your thing, you will not even need to purchase books from the Sony e-Book store since you can get ePub e-Books from several sources online and even libraries.
Performance (3 out of 5)
You cannot complain about the processing power of this e-book reader, as it is very responsive. It provides you with a smooth and easy navigation experience. The battery life is also an impressive performance feature of this device. In fact, the battery life can last up to two weeks of constant reading time. This performance level is excellent considering its set of features, but overall, it is not really that impressive considering it does not have wireless connectivity.
Price to Value (4 out of 5)
Another factor you must consider when choosing an eReader device is its price. The Sony Touch is available for around $225. Comparing the cost to everything that it can offer, including a lightweight and compact design accompanied by a strong performance a long battery life as well as a strong set of media playback features are all reasons why the price is worth it. This device earns a strong rating of four out five, which is definitely a good overall score. You can purchase this e-book reader online through Amazon.com.
References
Photo Courtesy of Amazon.com