Digital eReaders: Libre eBook Reader Review
Libre eBook Reader Pro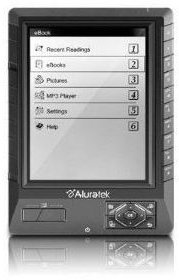 A wide range of digital book readers have swamped the marketplace with different screen sizes, technologies and features. Two of the most prominent names in this market are Sony's Reader and Amazon's Kindle. But there are also some more affordable alternatives available on the market, which deliver similar value to the user on various counts. One of such alternatives is the Libre Reader Pro from Aluratek. This Libre eBook Reader review examines the features, functions and technical specs of this model and whether it offers a reasonable value for the money to the customer.
Photo Credit: Amazon
Technical Details of Libre eBook Reader Pro (3 out of 5)
Libre is a light-weight digital book reader, which is compatible with both Windows and Mac operating systems. The unit comes with a built-in storage capacity of 2 GB and it has support for memory expansion up to 32 GB via optional memory cards. Therefore, it can potentially store thousands of eBooks. The display screen is 5-inch diagonal in size. It is a monochrome e-Paper LCD screen, and it rotates automatically. Text size is adjustable, and the unit includes functions for bookmarking and auto page turning.
Hardware RAM is 117 MB. The Libre Reader supports multiple formats such as Txt, PDF, ePub, PRC, RTF, bmp, jpg, gif, MOBI and MP3. This makes it is easy to download eBooks from various sources. Weight of the unit is only 8 ounces, which makes it easy to carry anywhere. Battery life is 24 hours with two weeks standby time. Prospective buyers should note that the Libre uses e-Paper display technology, and not E-Ink technology like the Sony Reader or Kindle. Libre's display does not have a backlight, so it requires a well-lit area for reading comfortably.
Product Features of Libre Reader (3 out of 5)
This Libre eBook Reader review also looks at various features and functions of the product, starting with product design. The good thing about the product is its slim and sleek design and its light weight. The display screen is sharp Black and White with a 5-inch diagonal display. The unit comes with a 2GB SD memory card along with one hundred preloaded classic eBook titles in ePUB format. The Libre Reader can be used to view images in multiple formats and also animated GIF files. It includes a built-in MP3 player and a 3.5mm headset jack that allows the user enjoy background music along with reading.
Libre's ePaper LCD technology makes reading easy on the eyes. The long-life Lithium-Ion polymer battery allows continuous reading time of up to 24 hours. It also has an auto-off feature if the unit is not being used for a set time. There is a content search feature for easy navigation between different eBooks and pages. It has auto screen rotation support for landscape and portrait modes. The Libre Reader connects with the PC through USB. The unit is available in two color casing options, black or white.
Value for Money (4 out of 5)
Prospective customers of the Libre eBook Reader Pro should know that this product does not offer WiFi capability like the Kindle. eBooks need to be downloaded manually and cannot be bought directly through the device. However, the price of this product is considerably lower than its more advanced competitors. Amazon sells it at a discounted price of around $121.
The item is also available for free shipping with Amazon's Super Saver Shipping. A gift-wrap option is also offered for this product by Amazon. The package includes the Reader, 2GB SD card, power charger, USB cable, earphones, hand strap, carrying case and a quick start guide. For someone looking for an affordable priced digital reader, the Libre eBook Reader is worth consideration.