My Place Cozy - A Review of This Personal Laptop Table
A Portable Laptop Table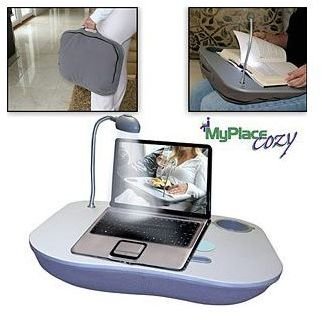 The My Place Cozy Deluxe Personal Workstation with Built-In Cushion is a quite versatile table for your laptop. It has been designed to ensure that you can use your laptop from virtually anywhere with equal ergonomic comfort and convenience. It is ideal whether you are working on your desk, or sitting in an airport lounge, or simply in the comfort of your bed. The interesting part is even though the design is meant for your laptop, you can use it for multiple purposes. It can serve as a stable platform right in your lap when you are reading, writing, or even eating. It is highly portable so you can carry it along wherever you want. If you use your laptop for long hours, this workstation can enhance your work efficiency and add to your comfort and convenience substantially.
Photo Credit: Amazon
Product Features (4 out of 5)
The product has a built-in soft pillow base that adjusts itself according to your body and sitting posture, while providing a stable platform for work. In addition to computer work, the product is also good for reading, writing, or doing homework. The surface area of the platform is large enough with a length of 16 inches, width 14 inches and height 3 inches. It includes an integrated LED light that is flexible and can be focused in the required position. It provides just the right measure of light that is needed for work within its area of focus. The light is powered by three AAA batteries.
The product also includes a built-in cup holder and a pen stand for extra convenience. Another advantage is that the entire workstation is made of extremely lightweight materials; its net weight is about 1.5 lbs. You can carry it anywhere you like without feeling an extra burden of weight or bulk. The soft cushion that is placed underneath the workstation for comfort is actually filled with tiny Styrofoam pellets. These ensure that the platform acquires the shape of the place where it is placed. A zipper opening ensures that the user can remove the cushion as required. The heat emanating from the laptop gets absorbed by the workstation and does not transmit to your lap.
Value for Money (4 out of 5)
The My Place Cozy laptop table is available from Amazon at a discounted price of $19.98. Considering the long-term usage and durability of the product, you can expect to receive good value for your money in this deal. It enhances the overall computer usage experience, and makes it less tiresome and more enjoyable. The company that manufactures this product is called Milen, and their official website can be found here. The manufacturer specializes in such innovative, ergonomic products and markets them in the As Seen On TV venue. For people who have a regular or excessive usage of a laptop, this workstation is a worthwhile one-time investment.