Introduction
eBook readers are a bookworm's dream. Imagine carrying 30 paperbacks with you on a holiday trip – not only would you have to worry about packing these books, you would have to contend with the weight, too. Compare that with carrying digital versions of these books and reading and rereading them at your convenience and easily switching between them or reading a favorite title in a dimly-lit bedroom when you're having difficulty falling asleep.
Also, if you have overflowing bookshelves, you would welcome buying eBooks, especially if you know that you're unlikely to read them more than once. If you're intending to go digital as far as your reading habit is concerned, then you may want to take a look at Tiny eBook Reader. If you don't have or don't plan to buy a dedicated eBook reader like Kindle or Sony Reader, then you can consider Tiny eBook Reader to satisfy your reading needs.
This article will take a look at features that will enhance your reading experience using Tiny eBook Reader developed by Golden Crater Software.
Formats Supported
The software allows you to read a document of any size in the TXT, HTML, LIT and TeBR formats, including Magazine Mobile Edition for Smartphone and PocketPC. It's important to note that copy-protected MSReader/LIT files are not supported.
Tiny eBook Reader Versions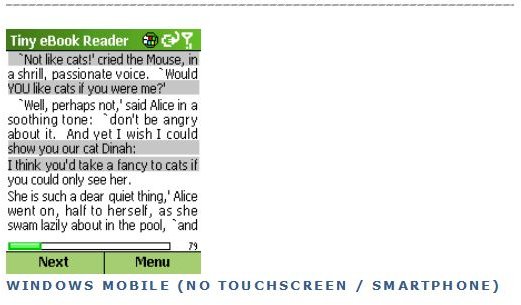 Tiny eBook Reader is offered in two versions: the online version and the Windows Mobile version.
You can choose the online version if you have a mobile telephone, PDA or a mobile device with Internet connectivity like iPhone, Android, BlackBerry and Nokia, among others.
Choose the Windows Mobile version if you have a PocketPC or Windows Mobile smartphone and Windows desktop.
The unified device installer which supports Windows Mobile and Windows PC Desktop is offered for $19.95. The online version is offered for $30 a year.
Tiny eBook Reader Online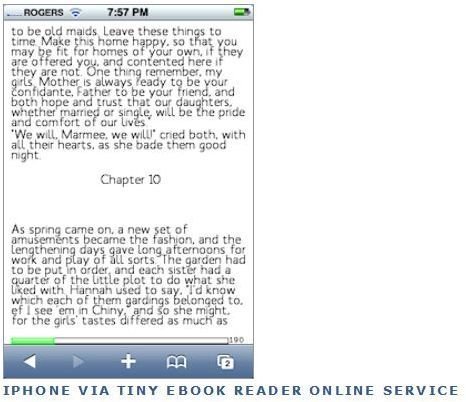 There are two main features of the online version. The first is the Online Control Panel. This is where you manage your online library and set your preferences. The second is the Reading Service, which allows you to read the eBooks in your library.
You get started by uploading an eBook to your account, set a mobile device and then start reading your book.
To be able to read eBooks online you will need a mobile device with a browser that supports WAP 2.0, XHTML or HTML.
If you have an important document you're uploading to your account, you could use the TeBR format to lock it with a password, so that these documents can't be accessed if your mobile device is stolen or lost.
If you're using the Trial or Lite Desktop version of the software, you will only be allowed to access your books for a period of two weeks from the creation date.
Creating your eBook
The two main ways of creating your eBooks to be read with Tiny eBook Reader is through a word processor or via a web page.
With a word processor, you will want to save the document as a text only (.txt) file and upload it to your account. If you see interesting content over a web page and want to read it over your mobile device later, you can save the content as HTML only (without images). Similarly you can upload an eBook as a LIT or TeBR file to your account.
You can learn more by visiting the Tiny eBook Reader website.