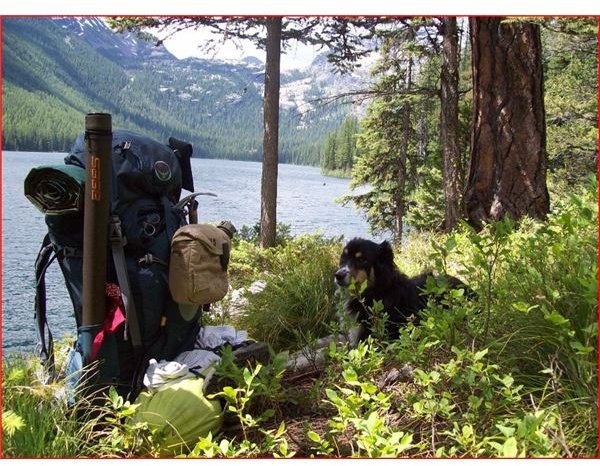 The best interactive dog toys keep your pet occupied and learning while at the same time, move that canine of yours further and further from its wolf roots. Just make sure not to let your dog wander off into the wild to find a pack in order to show off his prowess with the latest in modern gizmos and gadgets. These skills would be largely unappreciated by his wolf ancestors. Nevertheless, let's get right into new canine technology. I tried to put a good spread on price ranges depending upon how much you want to spend, but they're all good choices that have the added benefit of teaching your dog a thing or two as well.
Nina Ottosson's Trubble Dog Puzzle Toy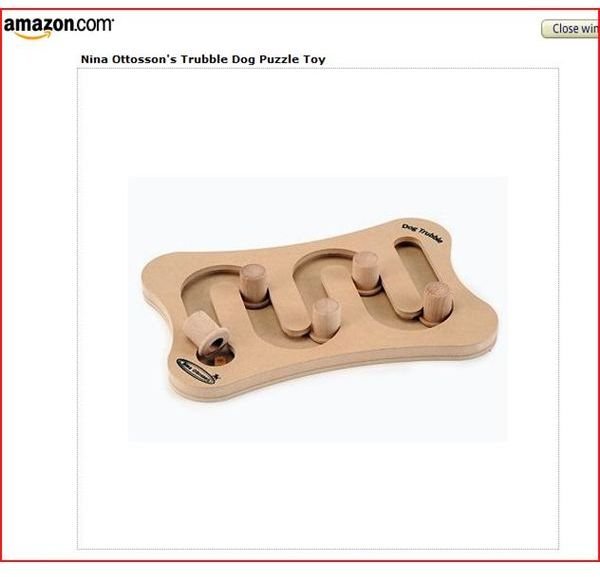 The pricey Trubble Dog Puzzle taxes your dog's brain quite steeply too. The dog must search for treats by moving blocks on the board that are on a serpentine track with just one opening. The dog must figure out that moving the blocks opens the treat hole. You can teach him commands like "go forward" and "go back" so that he learns gradually and you can increase the challenge. It's $52 at Amazon.com.
AIKIOU INTERACTIVE FOOD BOWL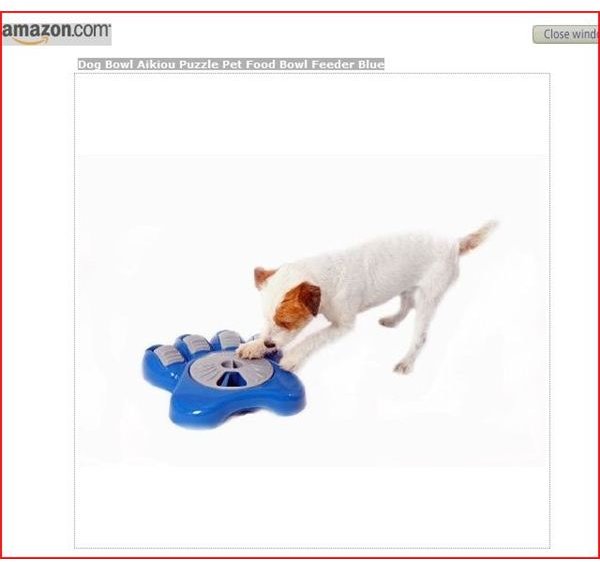 The Aikiou Interactive Food Bowl will entertain your dog (or at least appear to because when does the prospect of food not entertain your dog?) as she manipulates the sliders to reveal food and treats. It will slow down her eating habits because she has to figure out how to operate it to eat. You will have a good show to witness yourself too. It costs $16 at Amazon.com.
Powzer Flash n' Dash Ball Interactive Dog Toy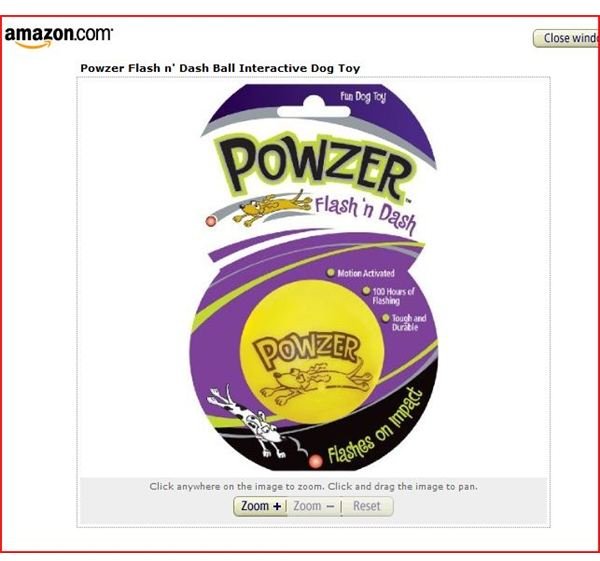 The Powzer Flash n' Dash Ball is especially popular with Golden Retrievers who tend to chase this durable, glowing orb that magically operates when they have their jaws mercilessly clutching it like it's the key to universe. Although it claims to last for 100 hours, some customers complain it doesn't have such a long operational life. However, most customers are pleased with how much their dogs enjoy it. It retails for about $11 at Amazon.com.
Vibram Acorn Treat Dispenser Chew Toy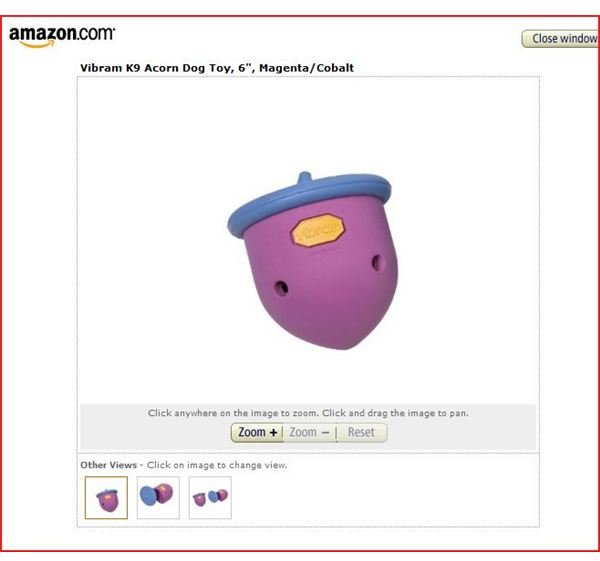 The Vibram Acorn treat dispenser, once filled with your dog's favorite treats, makes your dog figure out how to work the treats out of the small dispenser holes. By using their paws and jaws, they figure it out, usually in a wild frenzy, and it's good for them to learn that they get a reward for playing. $12 will score you one here at Amazon.com.
GAZILLION BUBBLE MACHINE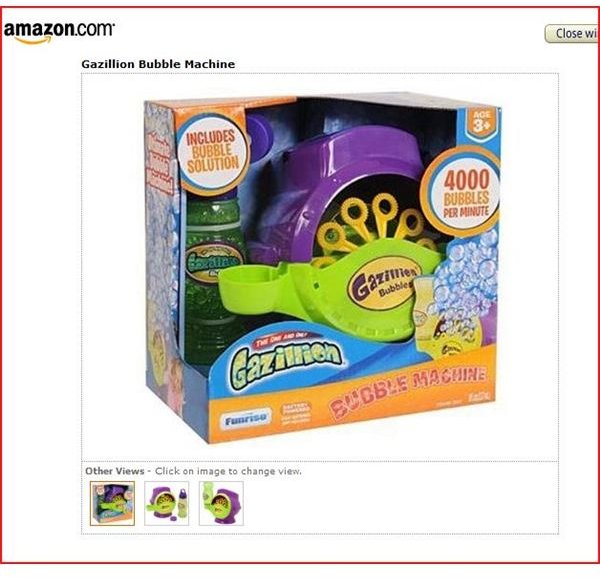 The Gazillion Bubble Machine makes over 500 bubbles a minute so your dog is really going to have to work it to get those numbers up all the way to a gazillion. This thing is hilarious when they get it to produce bubbles and then attack the bubbles with extreme prejudice. Requires a few AAs and you have to clean it out once in a while to keep it working right. It retails for $ 16 at Amazon.com.
NINA OTTOSSON DOG MAGIC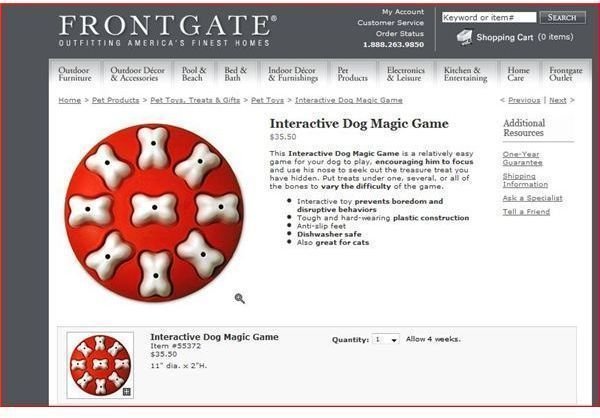 Dog Magic is like a shell game for canines whereas if they don't guess right, they're out of a treat. The nose really knows with this one. It's durable and safe. It retails for $35 at FRONTGATE FRONTGATE.
Babble Ball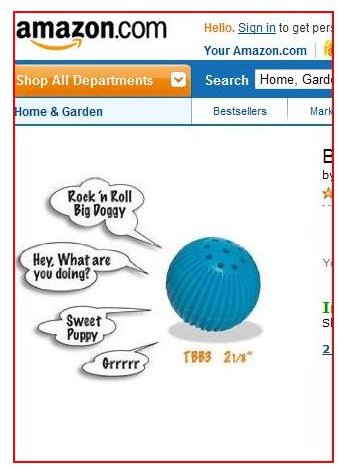 Just like the name says, your dog plays with the ball and it starts babbling which leaves your pet enthralled and baffled at the sheer mystery of the world. Buy one cheap at Amazon.com for only $6.
Premier Twist and Treat Dog Toy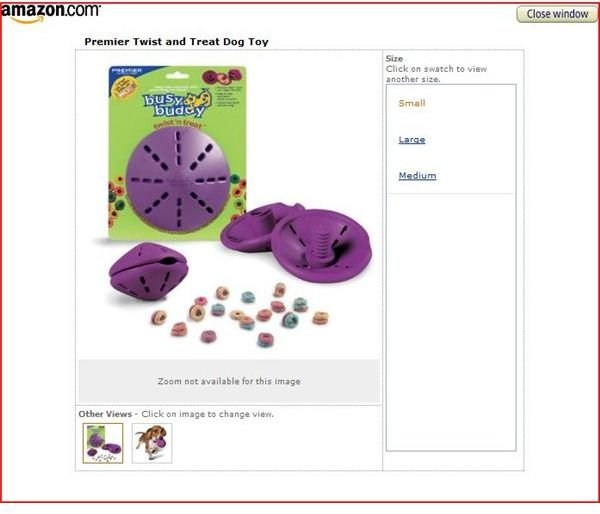 The Twist and Treat is an inexpensive but fun toy that is really for your smaller dogs and the idea is to make it easy at first until the dog gets the hang of it and learns what he must do to unleash the treats. It's only $4 at Amazon.com.
NINA OTTOSSON Dog Casino – Interactive Puzzle for Dogs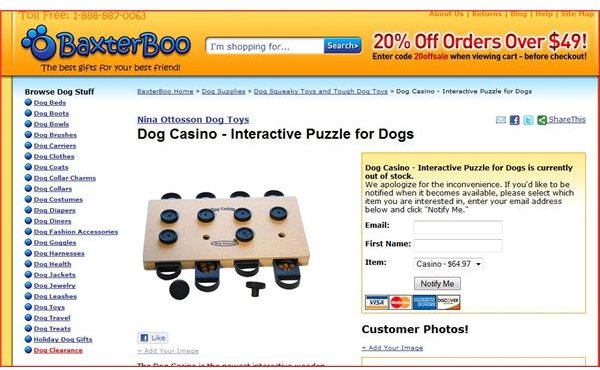 If your Fido is a high roller and you don't think he has a gambling addiction than the Dog Casino may be the thing you need to keep him busy for hours on end. The dog has to learn to pull the pegs out on top to get trays on the side which have treats rewarding Fido's ingenuity. Are the odds stacked against your dog? Check it out at www.baxterboo.com for $65. You truly have to ante up for this game.
Multipet Wiggly Giggly Jack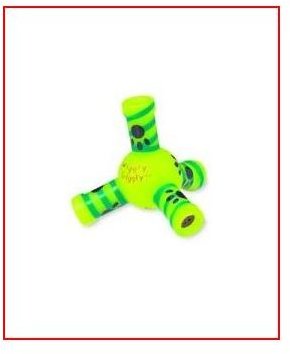 Wiggly Giggly Jack will sound off with hilarious noises once it's nudged by your canine friend. Perhaps this toy is best for when the owner isn't around so as not to disturb a sense of tranquility. The same noises that enthrall the dog might just jade one's nerves. It's about $16 at Amazon.com.
Whichever toys you choose, you're sure to induce happy tails with them. All treats are sold separately and for the more complex ones, it would be best to help your pet out a little so that you get a little training in too.