3 Top Picks: High-Quality Archos 405 Cases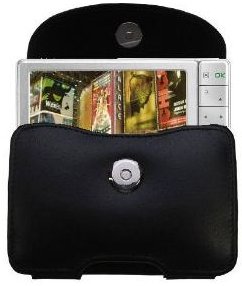 You Need a Leather Carry Case for Your Archos 405
The Archos 405 multi-media player is a popular portable device that is sold all over the world. However, a sensitive portable device also needs sufficient protection as well as convenience to carry it anywhere you want. Therefore, a few companies are making high quality Archos 405 cases that are customized to fit perfectly with this model. These cases not only add to the safety and protection of the gadget, but also are aesthetically pleasing. A person feels good when carrying a smart and sturdy leather case for this item.
Horizontal Black Leather Case for the Archos 405 with a belt clip and loop option from Gomadic
Gomadic is one of the renowned manufacturers of leather cases for electronic gadgets and other purposes. They have created a custom-fitted leather case for the Archos 405 which comes with a classical design that will be the natural choice of many people. The design is neutral enough to go with any type of clothes, colors, and accessories. It is a highly functional case that is designed in a streamlined shape. It goes perfectly whether you plan to carry it for a casual outing or into a formal setting.
There is a belt clip and an optional belt loop slot, both of which are made with superior materials. The inner lining is made of soft felt material to ensure that the device is protected against scratches. It also comes with a secure magnetic snap closure for convenient access. This case can also be used as a stand that props up the Archos 405 device if you need a playback review for a group. This rich black leather case can be purchased from Amazon.com at a price of $39.95.
Aluminium Lined Leather Case Archos 405 30GB - Book Type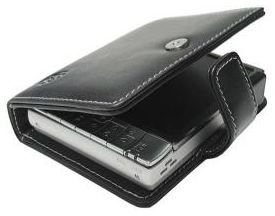 This is one of the finest Archos 405 cases available in a "book style" on the market today. It is being manufactured by Proporta in Europe and can be easily ordered online and shipped to United States and Canada at a nominal shipping charge. This aluminium lined leather case is handcrafted exclusively for the Archos 405. Proporta uses a unique "Screen Saver System" to line the case with extremely light-weight, aircraft-grade aluminium. This reinforces the strength of the case and provides protection against shocks and other harsh impacts.
The case is designed to be automobile mountable, which makes it convenient for using with car audio systems. The case includes spaces for easy access to controls and ports enabling the device to be used from the case itself. Hand-stitched contrast colors give the case an attractive look. There is a secure magnetized clasp closure for efficient access. Carrying the case is very convenient because it is shaped in the style of a leather bound book or diary. The case can be purchased from the online store of Proporta.biz which also facilitates international shipping for many countries, and it's also available from Amazon for just under $12.
Archos Leather Stand Case for Archos 405 (Black)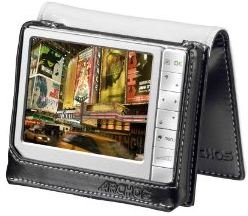 This choice is an economical and efficient black leather stand case that has compatibility with all Archos 405 models. It has been specially designed to encase and protect the Archos 405 multi-media equipment. The looks are contemporary and stylish with an exterior made of genuine leather and an easy-access belt clip. The screen is protected due to the casing and the user has convenient accessibility to video and audio buttons. The case can also be used as a stand to prop up the 405 when there is a need for a group to review playback. The case currently sells for a heavily discounted price of $5.15 at Amazon.com.