Mustek Flash Memory Camcorder and Digital Still Camera: Review and Buying Guide for the Mustek DV4000
Features (3 out of 5)
The Mustek flash memory camcorder and digital still camera is an extremely low-cost 4.0 megapixel digital camcorder and camera. At about $75.00 online, it's a multifunction camera on which you can even play MP3s. But, even at such a low price is the Mustek DV4000 Flash Media Camcorder worth the money?
To answer that question, let's start with the features. The camcorder records video at 640 x 480 VGA or 320 x 240 QVGA, and the recording format for this camera is Flash Media. The movie mode for the Mustek flash memory camcorder is MPEG. The camera can also take still images at 1.92 Megapixels with a maximum resolution of 1600 x 1200.
This camera does not have hard drive. Instead, it has expansion slots for the SD or Multimedia memory cards. A 32 Megabyte memory card is included with the camera.
The camera also doesn't have an optical zoom, but it uses a 4x digital zoom, which isn't great. Unlike an optical zoom lens, you can't actually zoom into a subject with lens using digital zoom. Digital zoom only magnifies a part of the image digitally, which is something that you can do in post-production.
Body (3 out of 5)
The body of this camcorder is extremely small. In fact, the major selling point of the camcorder. It only weighs 0.21 pounds, and the dimensions of it are 1.3 inches wide by 3.23 inches high and 2.44 inches deep. This digital camcorder will fit into nearly anyone's jacket pocket or purse.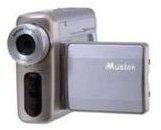 The camera comes with the ULEAD Video Studio software, Photo Explorer and Photo Express.
It has a flip-out 2.5 inch LCD screen, and it uses a 2.1 CMOS sensor, which allows you to take the still images. It uses a lithium battery, and it has a plug for both a USB cable and a headphone. The battery was something of a disappointment since you have to remove it to charge it.
While the body is extremely small, it's rather clunky-looking. The front of the camcorder makes one reminisce about the old movie cameras with its extruded lens. But it's just not all that attractive.
Video and Photo Quality (3 out of 5)
Now, it's onto the video quality. This camcorder is only for beginners or for those who wish to take video for YouTube or Facebook. The camcorder can only take video at between 8 and 10 frames per second, which means that the video is going to be a bit jumpy.
The 640 x 480 video setting should only be used in bright sunlight or with a lot of lamps. If not, the video is going to be too noisy and dark. The 320 x 240 setting does better, but you should still have enough light.
Another issue is that your recording time will vary. If you have it at the highest setting, then you'll only get about 35 minutes of recording time.
The photo quality is average. If you use the digital zoom, you can get pictures up to 2304 x 1728, but as mentioned earlier that isn't actually zooming into the object with a lens. You should only take pictures up close and in good light.
Bang for the Buck (3 out of 5)
Overall, the Mustek Flash memory camcorder and digital still camera is fine for those who want to share items on social networking sites, but you shouldn't use this camera for serious film production. It's perfect for quick, on-the-go snapshots and filming. And it's extremely inexpensive.