Kodak EasyShare Z712 IS - Unbiased Digital Camera Reviews at Bright Hub
Kodak EasyShare Z712 IS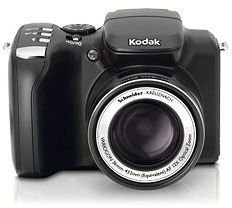 Features
The EasyShare has a little of something for everyone. It comes with a high resolution 2.5 in. (6.4 cm) color display, high ISO mode, video, optical image stabilization, 32 MB internal memory, SD/MMC card slot, and a Schneider-Kreuznach Variogon 12X optical zoom lens.
One of the best features is the EasyShare's 0.26 seconds click-to-capture speed. This means that .26 seconds after you click the shutter button, the camera takes a picture. This is the best-in-class click-to-capture speed in the industry.
The 7.1 megapixels is an impressive amount for such an affordable camera. 7.1 megapixels means that you can blow an image up to 30 × 40 inches (poster size) and it will still look fantastic.
Sharing
The reason this camera is called EasyShare is because of its ability to take the picture and then immediately turn it into something tangible through three different options. You can use the camera's video connection to link the camera with a TV to view the photos as a slide show or to view videos. You can use the USB to link it to your printer to instantly print photos or you can use the USB to upload the pictures to your computer to share with others. It also comes with software to help you load your pictures onto the Kodak website for professional printing.
Usability
There is a very small learning curve for the Kodak EasyShare Z712 IS. The icons are easy to understand, the modes have on-screen prompts, and there are very few buttons.
Cost
The Kodak EasyShare Z712 IS sells for around $230. This is a good price considering the quality and options this camera provides compared to its competitors.
For the price, features, and usability, the Kodak EasyShare Z712 IS is the best buy out of any camera in its class. I have been using it, and enjoying it, for more than six months now without any problems.