Cool Camera Accessories: The Gary Fong Flip Cage Camera Stand Review
What is it?
The Flip Cage is a relatively inexpensive camera accessory that is versatile and easy to use. The design is simple, yet unique. It attaches to the tripod socket of your compact digital camera and has flip out arms that are designed to enclose and protect your camera in the event of an accidental drop or fall. However, these same flip out arms do double duty when they turn the Flip Cage into a portable camera stand that you can use for self portraits, group shots, timed exposures, and more.
It fits all digital cameras measuring 4 inches or less in width, 2-1/2 inches or less in height, and 1 inch or less in thickness, and that covers most pocket-sized compacts. The Flip Cage comes with a green and black Gary Fong neck strap, and white side plates that can be flipped up to take a picture, or removed altogether (see pictures below and on next page). It is also available in ten colors, so you will likely find one that matches your current camera's livery.
Camera Protection (4 out of 5)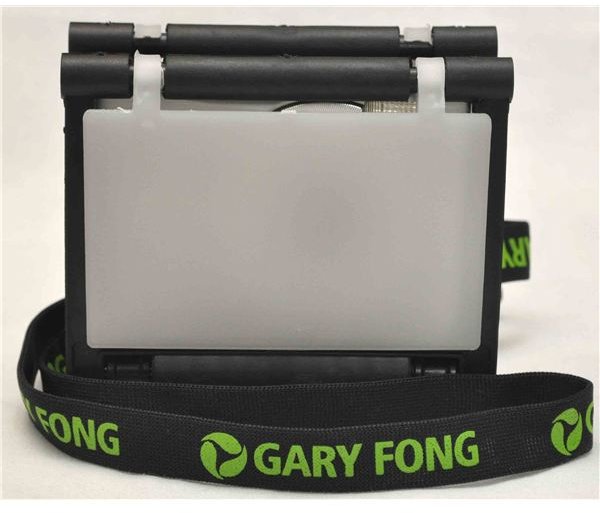 From the outset, it has to be said that dropping a digital camera is not a good idea under any circumstances. Their bodies are typically plastic, and the electronics are sensitive. However, if you did have to drop one, you would certainly feel happier dropping one that is attached to the Gary Fong Flip Cage. For the purpose of this review, I dropped my camera so that you don't have to, and I have to say that the results were very encouraging.
My aging Canon PowerShot SD750 was dropped from heights as high as 6ft, yet showed no signs of damage or wear. However, having the white side plates on is advised in the event of any hard uneven surfaces that could strike the inside of the protective frame, and you should be sure to tighten the tripod screw firmly, as this will ensure that your frame remains rigid. The Flip Cage is rugged, well-made, and looks built to last.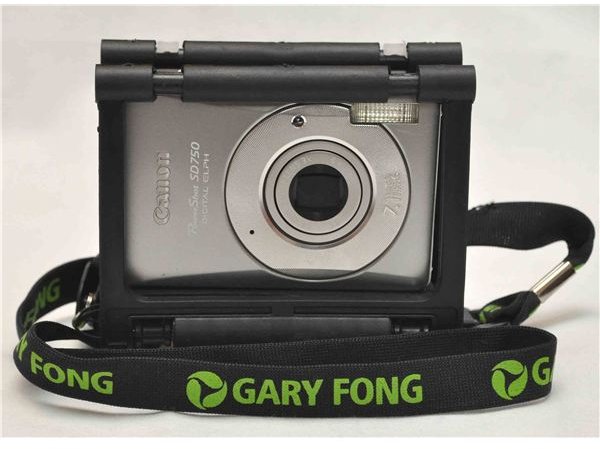 Nonetheless, this level of protection does come with some drawbacks. For instance, when attached to the Flip Cage, your compact digital camera is no longer as compact as it used to be. The frame adds very little weight, but the added bulk is noticeable. Furthermore, accessing your camera controls is not always practical without unfolding the protective arms, and in some situations this could mean the difference between getting the shot and missing the shot, but with practice it should not be too big an issue.
Camera Stand (5 out of 5)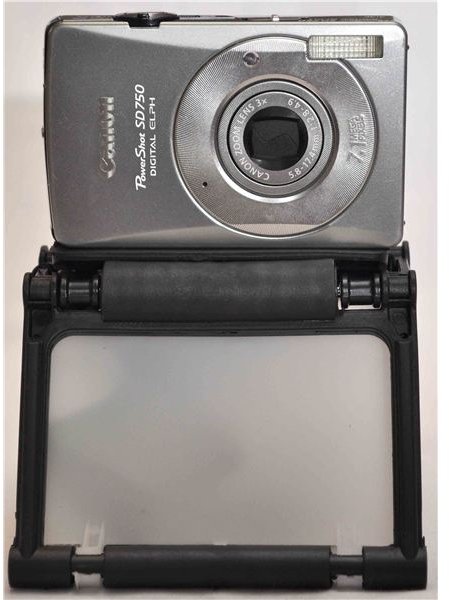 You have likely seen, or own, one of those small black tabletop camera tripods with flexible legs. You may even have something more sturdy like a Gorillapod to hold your camera. Well, these are just some of the cool camera accessories that the Gary Fong Flip Cage is competing against.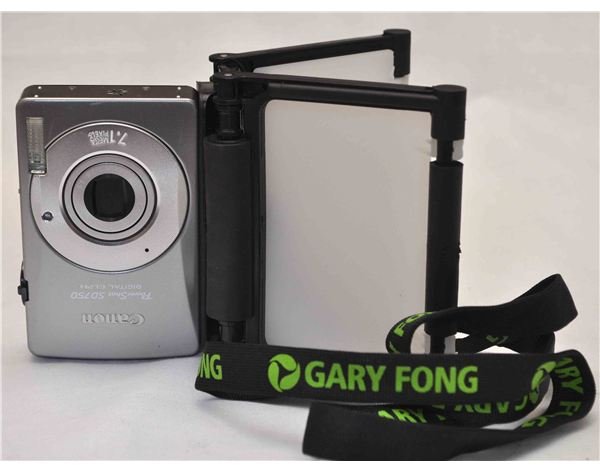 The Flip Cage can be used in a number of different ways when utilized as a camera stand. The traditional horizontal position (see image on left), is achieved by loosening the tripod screw and prying the legs apart into an A-frame shape. Once in position, you can tilt the camera forward or backwards for a different angle on your composition. Vertical shots are as easy as flipping the stand on its side (see right), and you can adjust the legs for additional stability if needed.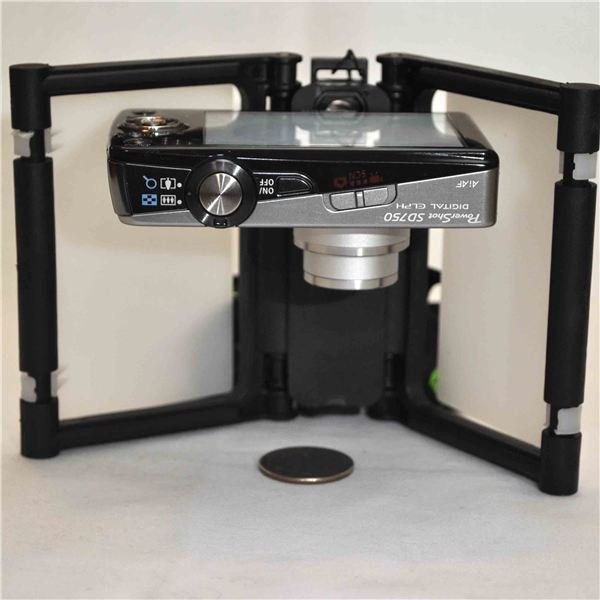 One of my favorite ways to use the Gary Fong Flip Cage is to use it as a macro stand (see left). The tripod screw slides up and down to get you close or further away from your subject, and it is a great way to keep your macro shots sharp while staying blur free from camera shake. Gary Fong also suggests folding both legs underneath the camera to grip with both hands and form a 'steadycam' hold for shooting video.
Value for Money (5 out of 5)
So, how much is this versatile camera stand? Amazon will happily sell you one for $19.99, and for me that represents good value for a product that will serve two purposes for the price of one. It would be a great accessory for traveling because you need not pack an extra tripod to carry around with you, and while it has no storage pockets like a traditional camera case, it will afford you as much, if more, protection. The more you think about it, the more you will realize how much you are getting for your money.
Overall Rating (4 out of 5)
Overall, I have no hesitation in recommending the Gary Fong Flip Cage as your next cool camera accessory. My only real complaint is the lack of instructional materials that come with the product. There are no hints or tips on how to use it, or recommendations on how to set it up for the best protection. There is a very informative video on the Gary Fong website, but I think that all users would benefit from some additional documentation in the box. Otherwise, it is a great product with a bright future.
This post is part of the series: Gary Fong Products
Find out about the latest Gary Fong photography products with these in-depth reviews.