Sony Cyber-shot DSC-W290 Digital Camera Review & Buying Guide
About the Sony Cyber-shot DSC-W290
The Sony Cyber-shot DSC-W290 is a point-and-shoot digital camera that is very intelligent and sensible. What's great about this digital camera is the picture and camera quality, the large LCD screen, the abundance of features and the ease of use. The camera even comes with 11MB of storage already built in. This camera is great for both beginners and those who take photography seriously.
If you're looking for a compact camera with all of those extra nifty features that you'd usually find on an expensive and bulky SLR, than you will enjoy the many highlights that the Sony Cyber-shot DSC-W290 has to offer.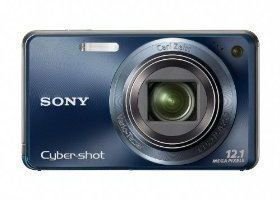 In the Box (4 out of 5)
Battery charger
Wrist strap
A/V cable
USB cable
CD-ROM for set up
Manual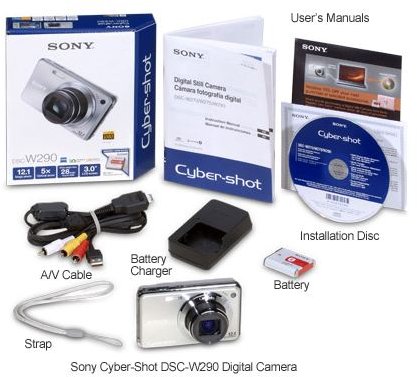 Design (5 out of 5)
The Sony Cyber-shot DSC-W290 is very sleek and compact, weighing 1.1 pounds and measuring 6.7" x 2.2" x 7.4" (about the size of a standard deck of cards), which makes it great for fitting in a small purse or pocket. Since the camera is fairly heavy, you won't need to worry about losing it. You'll always feel it in your pocket or secured on your wrist. You can purchase this camera in four different colors: black, silver, dark blue and bronze.
The front of the camera has little ridges that, if you don't keep clean, will trap dirt and dust over time. You will also notice your fingerprints on the front, especially if you own the silver colored Sony Cyber-shot DSC-W290.
Performance (4 out of 5)
The Sony Cyber-shot DSC-W290 performs fairly well compared to similar point-and-shoot cameras. Start up time is a little more than one second long, so if you need to capture a moment quickly, this camera won't let you down.
When taking pictures, expect to wait around .4 seconds from the time you press the shutter until the time the image loads on the screen. Expect to wait .7 seconds in poor lighting conditions and 2.3 seconds without the flash on in poor lighting conditions.
Image exposure and color are excellent, despite the occasional blurry shot due to slow shutter speed and poor lighting conditions.
Continue to page 2 for more information on the Sony Cyber-shot DSC-W290, such as:
1. The camera's wide variety of features.
2. A list of negative aspects.
3. The price to value given to this camera and why.
Features (4 out of 5)
3" LCD display: View your images and video on the crisp 3" LCD display screen. Since there is no viewfinder, the 3" display is great for seeing how your pictures will turn out.
12.1-megapixel Image Sensor: With 12.1 megapixels, you can capture quality photographs with great detail. You can also create high quality 13x19-inch prints.
5x Optical Zoom: Zoom in really close to far away objects. This is a great feature to have if you bring your camera to sports games or if you enjoy taking scenic images.
Wide angle lens: The wide angle lens allows you to see more of your image, such as landscapes or portraits, so you don't have to cut anything out.
Face detection: The Sony Cyber-shot DSC-W290 is equipped with face detection. The camera will automatically detect up to eight faces per image and reduce blur and control lighting. This technology also helps reduce red-eye. Also featured on the Sony Cyber-shot DSC-W290 is anti-blink, where the camera takes two images and uses the one that shows the focus' eyes open.
Intelligent Auto Mode: This camera has a setting that automatically detect faces, scenes and lighting conditions and accordingly edits the brightness and quality of the image.
Smile technology: Automatically detect and capture smiles before they disappear.
HD video: Record videos in 720p high definition.
Convenient modes: Select up to 13 different modes, from landscape to underwater, for better image quality.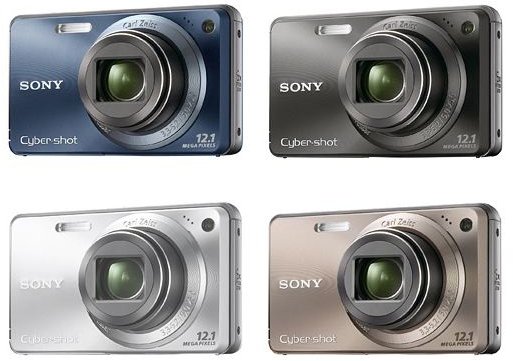 Cons (3 out of 5)
Due to the slow shutter speed, indoor pictures tend to come out dark and blurry.
Camera users are unable to zoom in or out during video capture.
There is a rather long gap of time between capturing images and viewing them.
People with large or unsteady hands may have a problem using the menu buttons, as they are small and close together.
Price to Value (4 out of 5)
You can buy the Sony Cyber-shot DSC-W290 for $196.84. Overall, this point-and-shoot digital camera is high quality and offers a lot of advanced features that you won't find on competitive cameras. If you can work around the occasionally poor indoor quality and the closely-spaced menu buttons, you'll enjoy the camera's design, wide angle lens and various technologies and modes.