(3 out of 5)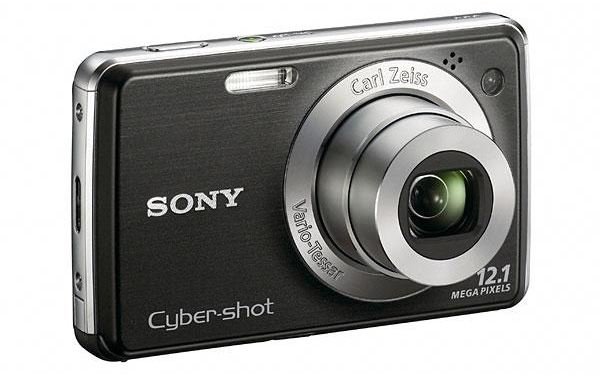 The Sony Cyber-shot DSC-W220 is an entry level camera with a current price tag of $149.00 on Amazon.com. It is a compact, lightweight point-and-shoot that has all of the basic point-and-shoot features. It comes in four colours: silver, black, blue and pink. Sony also has a decent list of accessories available for the W220 which include camera cases in all four colours and underwater camera armour. With the W220, like most Sony products, some of the accessories are Sony specific. In this case the memory card must be a Sony memory card. In my opinion this is one of the major drawbacks to many Sony products in general.
A Quick Look at Features (4 out of 5)
For an entry level camera the Sony Cybershot has some seemingly impressive attributes. The first thing that people tend to look for in a camera is a large amount of megapixels, and this Sony has an impressive 12.1 megapixel sensor with a 2.7 inch screen to view your photos. There is also a 4 times optical zoom which is the basic equivalent focal range of 30mm to 120mm. The aperture is an unfortunate 2.8 to 5.8 range. Strangely enough most point-and-shoot cameras including the W220 will fair well shooting landscapes despite the low aperture. That being said, a photographer will be hard pressed to get a decent portrait unless completely zoomed in on their subject which makes camera shake more likely. To help with this, the W220 has two different image stabilization functions to help correct camera shake. One bonus with the W220 is its ability to close in on a subject for macro photography. It can focus up to 4 centimetres away from the subject although getting this close does render the flash useless. The Sony Cybershot has a range of different in-camera photo editing tools and can record video in MPEG format.
Hands on (3 out of 5)
The Cybershot is a very compact camera so it is easy to carry around and the 2.7 inch screen is a well sized monitor for such a small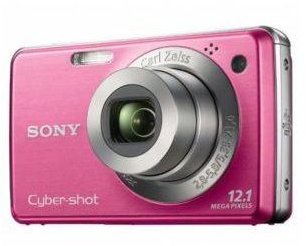 camera. The monitor is totally exposed, so I would highly recommend picking up one of the Sony carrying cases so it doesn't get all scratched up. Unlike some other small cameras, the battery should last over 350 photos on a single charge. My only real turnoff when it came to the W220 is the amount of noise (the digital equivalent to film grain) generated when the camera is using an ISO higher than 100. The shots are so noisy that they start to look blurred if shooting at ISO 400 or above. This camera shines when shooting in good outdoor light or when shooting macro shots with no flash. This means that for most people this camera is going to suit their needs. Where the Cybershot fails is shooting indoors, in low light situations, but to be fair this is par for the course with most point-and-shoot cameras. So the final verdict is that this camera is ok, nothing more than that. It is a fair starter camera and good for those that want to take pictures but don't want to fool around with a bunch of options.
To learn more about the Sony Cybershot DSC-W220 12MP digital camera, check out this Cybershot review of the same camera.