Overview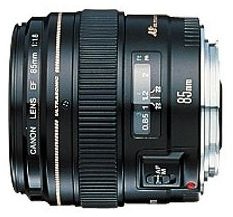 The Canon EF 85mm f/1.8 USM is a fixed focal length lens that is a favorite of many portrait photographers. The 85mm focal length and f/1.8 maximum aperture combine to produce images with great out of focus backgrounds ideal for subject isolation.
In addition to being light, this lens is built well and focuses extremely quickly and quietly. It feels well balanced mounted on the front of all Canon SLR cameras. The EF designation of this lens means it will work with all Canon digital SLR cameras and older film SLR models.
Features (4 out of 5)
The main feature of the Canon 85mm f/1.8 lens is its large maximum aperture of f/1.8. The large maximum aperture allows the lens to gather lots of light and render image backgrounds completely out of focus. The light gathering ability makes this lens useful when shooting at night or indoor under low light conditions. The out of focus backgrounds this lens produce make it perfect for isolating subjects in portrait situations.
This lens uses Canon's Ultrasonic Motor (USM) for focusing. The USM system makes focusing with this lens fast, quiet, and extremely accurate. In addition, full time manual focusing is available and the large focusing ring makes focusing manually quite manageable.
Image Quality (5 out of 5)
Fixed focal length lenses are generally sharper than zoom lenses and the Canon 85mm f/1.8 lens is no exception. Being a fixed focal length lens means there are less internal elements to degrade image quality. While most lenses tend to be sharper when stopped down by one or two stops, I find the Canon 85mm f/1.8 to be quite usable wide open at f/1.8. Image quality does tend to get better when the aperture is set to f/2.8 or f/4, but the improvements require images to be viewed at 100% to see.
Colors produced in photographs taken with this lens also tend to be very good. They may not have the same vibrant look as those taken with a more expensive L Series lens, but they are by no means dull. I have not tried the Canon 85mm L Series lens so I cannot provide a direct comparison.
Conclusion (5 out of 5)
The Canon EF 85mm f/1.8 lens has a suggested retail price of $420 and can usually be found on Amazon for less. For around $400, I think this is absolutely one of the best Canon lenses available for the money. Anyone looking for a good, solid lens for portrait work or low light photography should give this lens serious consideration.
In my opinion, the only downside of this lens is the longer 85mm focal length. The longer focal length combined with a cropped sensor camera make shooting in smaller spaces a challenge. As with most of my photographic recommendations, I suggest anyone considering this lens rent it for a weekend to see if the focal length will suit your style of photography.
Canon EF 85mm f/1.8 USM Sample Images