Casio Exilim (3 out of 5)
The Casio Exilim EX-S12 12 MP digital camera is a very good camera for beginner photographers to use. It is a very small and light-weight camera that is packed full of features. It has a setting to create high definition movies that is very easy to use. The sound quality for the movies is clear. This camera gives an excellent picture quality with its 12.1 megapixels. It offers High Speed Burst digital photos and a simple upload process to computers.
Casio Exilim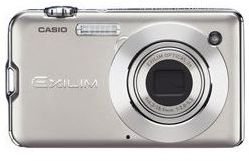 Features (5 out of 5)
This camera has many great features that make the journey into photography easier. It has numerous settings including night scene, fireworks, twilight hours, and auto best shot. It has an option for the "You Tube" capture mode, which makes it easy to upload images and videos to "You Tube". The Casio Exilim can detect faces and an auto shutter to detect smiles. The LCD screen on this camera is surprisingly clear and offers vivid images. The screen allows pictures to be viewed easily with its 2.7 inch screen size. The camera has a 3x optical zoom with auto focus options.
Price to Value (3 out of 5)
The Casio Exilim EX-S12 12 mp digital camera can be found on Amazon for $116.99. It is available in 4 different colors. This camera is worth the amount of money it is sold for.
Casio Exilim Review (4 out of 5)
This camera is great because of the wide range of options it has. The zoom ability of this camera is truly amazing. It is able to even capture the hair on a person's face. The cropping ability of this camera is very unique as well. It is very easy to crop pictures to multiple sizes.
This camera is great but it does have some down sides to it. It is very sensitive to camera shake and commonly captures blurry images. The shutter delay time is longer than most like but is easy to adapt to. It does not often capture over exposed images but can capture quite a few underexposed images.
Because this camera has so many features, you can easily lose your way through the menus options. Making commonly used options more easily assessable is one improvement this camera could have.
All in all, this is a great camera for beginner photographer to use.