Review of the Sunpak eBox Studio - Portable Setup for Product Photography
Sunpak eBox Studio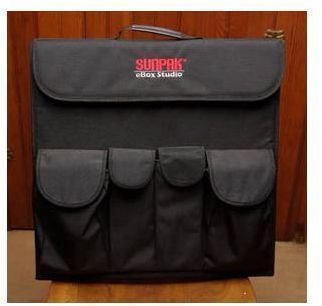 The Sunpak eBox Studio is a portable outfit for easy product or still-life photography. This is a popular option for those who want to take photos of their products they sell on eBay or elsewhere online. Prices range from $50 to about $100, depending on where you shop. The whole kit folds into the size of a medium artist's portfolio case and as such is quite easy to transport and store. With this kit and a few helpful tips on how to get the most out of it, you can be up and running and taking great photos in no time.
Opening the package, the photographer finds the light box itself, which is made of white translucent material to diffuse light, two colored backgrounds (gray and blue), a camera tripod and two lights. The light box unfolds to a 20" x 20" x 20" cube with one end open to shoot into. The backgrounds are placed at the top of the cube on the inside and attached by hook-and-loop fasteners.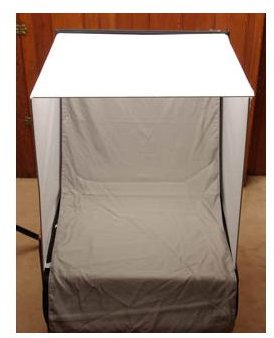 Overall, the construction of the eBox Studio is pretty solid. The stitching of the outer case is pretty tough and the overall structure, when unfolded, is steady enough to not fall into itself. The diffusion material does its job well and is attached securely to the frames. The lights come with built-in tripods, which slide out from the base of the lights and stand erect on their own quite handily.
This is a good product, with some caveats. The camera tripod is not very steady, although not bad for a small point-and-shoot camera. I certainly would not recommend putting an SLR camera on this thing. Although the tripod may be sturdy enough to hold a larger camera, it would surely not be good enough to keep it still and avoid camera shake in the final image. I would recommend using a sturdier tripod, sold separately or possibly already in your closet.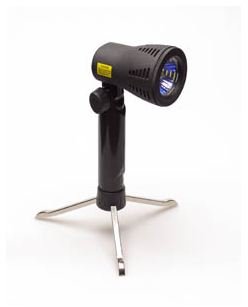 The other problem I have with the setup is the power of the lights. The included lights offer 100 watts of additional light. That's a little more powerful than a standard household light bulb. To put this in perspective, the lights I use daily in my studio emit about 800 watts of light, and I sometimes cut that back to 400 watts. 100 watts is not adequate for most photography. It might be okay to reduce some shadows when the whole kit is used in direct sunshine or in a very bright room but these are not sufficient for use on their own or in a dim room.
In addition, the lights, being incandescent, do not emit a white light, thus necessitating white balance be set by the user for a good-looking photo to result. This requires a user to be somewhat advanced and know the more intricate settings on his or her camera.
Summary: Although it has great construction and is an affordable, compact setup, the eBox Portable Studio by Sunpak is not a tool sufficient for the needs of a professional photographer. The lights and tripod may prove to be major stumbling blocks in the use of this device, but might be easy to overcome by a particularly crafty user. This product is sufficient for a person needing to shoot occasional photos for eBay, other online selling or even for documentary evidence for registering valuables with an insurance company. Weighing the costs, though, spending $50-$100 on this item is a good way to get into product photography, especially if it helps you make money, as opposed to spending thousands of dollars on a professional studio setup.