FinePix REAL 3D W3 Review
For this FinePix REAL 3D W3 review, we take a look at one of the few 3D capable cameras available at the moment. Having a price tag of $499.95 is quite steep, but for photography buffs who want to get their hands on the latest technology may have no problem with this price. This camera can record video and take pictures that can then be displayed on a 3D HDTV or a 3D PC. Users will not always have to shoot 3D images because the camera can also be used as a normal 2D camera, as well. Is it worth the expensive price tag? Let's take a look.
Features (4 out of 5)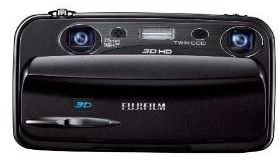 Obviously the biggest feature of the FujiFilm FinePix REAL 3D W3 camera is the 3D video and picture capabilities. Being able to view your pictures and video on the cameras display in full 3D without glasses is stunning. Although you can view the pictures on the camera in 3 dimensional forms, all of the pictures and video still look best when displayed on a 3D HDTV with the special glasses.
The user display on this FinePix camera has been seen before in earlier FujiFilm camera models. No one would think that with the new technology integrated in this camera, the user interface would be lacking. Text and icons that are presented on the screen look dated compared to other cameras on the market. Unfortunately the ease of access is lacking with the menus that are displayed to the user. The interface is unforgiving and makes it difficult to reach the users desired settings.
There are still the typical modes that every FujiFilm camera comes equipped with, such as facial recognition, manual shootings, and scene modes. The option to change between 3D and 2D is a great addition, because I can personally say that the 3D images and videos can become quite annoying at times. Users will have to purchase a SDHC card to store most of their images on account of the camera only coming stocked with 34MB of storage space.
Design (3 out of 5)
The FinePix REAL 3D camera has a design like no other on the market. There are two lenses located on front of the camera which create the 3D affect for pictures and videos. Surprisingly, the camera looks and feels exactly like any 2D camera even though it has 3D capabilities. Weighing in at 8.2 ounces, this camera is light and portable - perfect for capturing pictures during the day and making them into 3D masterpieces. One of the odd features of this camera is that there is no power button located on the camera because the camera is powered on when the lens shutter is slid down.
A dedicated 2D/3D button is located on the camera to enable users to switch between the different picture styles. There is also another button to adjust the parallax of the camera - which is the two lenses - and intensifies the 3D affect to each image. Viewing the images on the 3.5 inch LCD screen can sometimes be a hassle and give users headaches while viewing 3D pictures at the wrong angle. This is why it is always best to view pictures and videos on other devices, for increased clarity.
Picture/Video Quality (4 out of 5)
The camera has a 3x zoom for each of the lenses located on the front of the camera. With the 2 lenses, shooting 2D images can be a whole new photography experience for many camera buffs. Having 2 separate lenses enables both to take separate pictures at different distances. This can be an interesting feature to play around with. Unfortunately, the 2D images are not up to par with other $500 cameras which are fully dedicated to 2D images.
The 3D videos and pictures are usually a 50/50 shot when it comes to clarity. Sometimes a picture will come out stunning,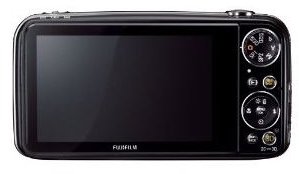 and other times they will appear distorted by the cameras 3D capabilities. Viewing the pictures on the camera can sometimes make you feel as if you are seeing double of the image. This was quite upsetting, because I was excited to view 3D images without wearing the funky glasses. If you are a user who is lucky enough to also own a 3D HDTV, then you will be happy when viewing your pictures and videos on your television. This is when the pictures and video are viewed the best, and look genuinely 3D.
Final Verdict (4 out of 5)
There are not many 3D cameras available at the moment, and this FujiFilm FinePix REAL 3D W3 review displays how the camera does its job well. However, it is not hard to predict that this technology will become better as time passes. With that in mind, you may wish to wait to purchase a 3D camera. While viewing photos on a PC or 3D HDTV can make you proud of your pictures, trying to view them on the camera can be difficult. All in all, however, If you are looking for a new 3D camera and have $500 to spend, this may be the perfect choice for you.
References
The information offered in this article is based on the user's manual and the author's use of this camera at a local expo.
Image Credit:
Picture #1 & 2 are both courtesy of Amazon.com