Mamiya 7 II Rangefinder Camera Review: Design, Features & Performance
This is a manual focusing rangefinder camera that offers portability, versatility and great image quality. This medium format camera offers high quality optics, making it very attractive for fans of rangefinder cameras and cameras that are very comfortable to handle. Here are some important notes about the camera that will help you determine if you need to get one or not.
Design (4 out of 5)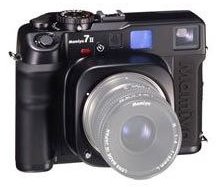 This camera, weighing 2.8 pounds, focuses on ergonomics with a well built frame, good balance regardless of lenses used and a hassle free film loading and unloading experience. It may not look as sleek and as shiny as other types of cameras, but it has an old school charm with a solid camera design and a very comfortable handling experience because of its lightweight feature. Since this is a manual focusing rangefinder camera, lens adjustment and overall handling is key in the overall experience of using the camera. For its compact and lightweight design, it gets a score of four over five.
Features (4 out of 5)
The feature in the spotlight of this Mamiya camera is the bright and big viewfinder that offers great contrast. Its frames cover focal lengths of 65mm, 80mm and 150mm. These are the auto-indexed frames. It also has auxiliary finder lenses, particularly 43mm, 50mm, 150mm and 210mm. These finders possess panoramic frame markings that are unobtrusive. It has an accuracy of 83 to 100% at the minimum focusing distance and it focuses by superimposing a double image at the very center of the viewfinder. Fans of this type of cameras will find great joy in this collection of lenses that allows for a wide range of creativity options.
The camera features two auto-exposure modes which lets you shoot pictures in different lighting conditions. These modes are the aperture-priority auto-exposure mode, or AE, and the auto-exposure lock mode, or AEL. The camera is designed to be used generally in AE mode so if you want to use the AEL mode, you will have to get used to a camera that is not intuitive in terms of handling and shooting. However, if AE mode is your thing, you will find that this camera offers one of the best handheld photography experience you will ever have. For its features, it gets a good score.
Performance (5 out of 5)
It does not have a lot of advanced settings and that is why this camera is extremely easy to use without minimizing the amount of controls for the user. By being minimalistic in terms of the interface and the settings, users can focus on actually taking pictures instead of worrying about the multitude of settings they need to set in order to get the right shot. This ease of use coupled with great image quality that features high contrast, sharp and free of distortion images. It deserves a five over five or excellent score for its performance.
Conclusion (4 out of 5)
The Mamiya 7 may not be the right choice for a camera for people who are used to digital cameras with tons of features and settings, but for fans of manual rangefinder cameras, it is an ideal camera especially for travel and street photography. Its minimalistic features list is compensated for by its great handling and ergonomic design. It may not be for everyone but for the people who are into this kind of camera, it is a great buy. It gets a rating of four out of five which is a good score.
You can purchase this medium Mamiya rangefinder camera online from Amazon.com at $2,371.
References
Luminous Landscape, https://www.luminous-landscape.com/reviews/cameras/mamiya_7_ii.shtml
Amazon Products, https://www.amazon.com/Mamiya-II-Rangefinder-medium-black/dp/B0000D88OS/ref=sr_1_1?ie=UTF8&qid=1304088166&sr=8-1
Photo.net, https://photo.net/equipment/mamiya/7
Photo Courtesy of Amazon.com