Lowepro Camera Bag Review: The Pro Runner x350 AW Rolling Bag & Backpack
Lowepro Pro Runner x350 AW
Lowepro are an established name among photographers around the world. They have been making high quality bags and backpacks for photographers, hikers and travelers since 1967, and the Pro Runner x350 AW is one of their latest models. It is different from a standard Lowepro camera bag because it has a dual purpose - it can be used as either a rolling camera bag or as a backpack. For travelers this flexibility is a great advantage, especially seeing as it is also designed to meet the size requirements of airline check-in luggage.
Features (5 out of 5)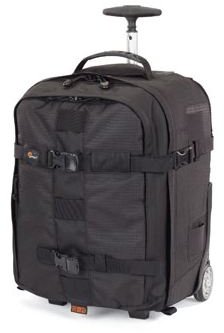 Weighing 9 pounds, and measuring 11.8W x 5.1D x 15.6H inches, this utilitarian camera bag is packed full of useful features for photographers. Inside it has a padded and protective divider system that has velcro adjustments so that you can align the dividers to best meet the needs of your equipment. Lowepro say that it will fit a DSLR with an attached 70-200mm f/2.8 plus 3-4 lenses or flash accessories. In my test, it easily accommodated my Nikon D90 with 55-200mm lens attached, an 18-55mm, a 50mm f/1.8, my Metz 48 AF-1, a battery charger, various filters, spare batteries, and a Lightsphere Collapsible.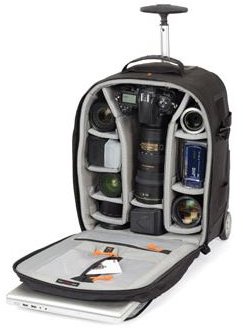 In the front pocket there is a padded neoprene laptop sleeve, which will hold laptops up to 15.4 inches. To me this seems a little strange when 15.6 inches is becoming a popular standard size. I tried to squeeze my 15.6 inch Acer into the sleeve but as per the spec sheet, there just wasn't room. MacBook users will doubtless have few problems with this, while netbooks and 14-inch notebooks will also be fine, but wouldn't it have been nice to have allowed an extra half inch or so to appeal to a wider variety of laptop users? The next model up in this range, the x450, has more room and allows for laptops up to 17 inches, so consider that if you need the extra space for a larger laptop.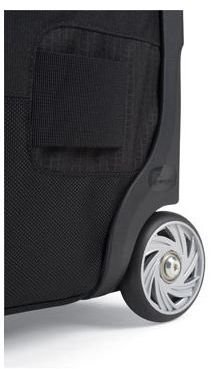 Externally there are straps for attaching a tripod or monopod, two replaceable wheels, a telescopic handle, and numerous adjustable padded straps for carrying and using as a backpack. The straps tuck away when they are not needed, but are quick to find when you need to make the change from rolling bag to backpack. There is even a handy built-in all-weather cover tucked away behind a flap underneath the bag. Pull it out and it will cover the entire case and add some additional weather protection when you most need it.
Build Quality (5 out of 5)
Owners of the Lowepro Pro Runner x350 AW camera bag will be carrying around hundreds, if not thousands, of dollars of camera equipment, so you need to know if it is going to hold up long enough to be able to protect the sizable investment you have made in your camera equipment. Does it meet the grade? Well, if you are used to the quality of other Lowepro camera bags, then you will not be surprised at how well made this bag really is. Everything works exactly as it should. Zips, straps, wheels and even the velcro inside all give you the impression that this bag will last you a long time. There are no loose threads, bad seams, or dubious materials because this bag has been made to some very high standards and will do a great job at transporting your gear safely and securely.
Practicality (4 out of 5)
On a day-to-day basis you have to think that the primary purpose of the Pro Runner x350 AW has to be as a roller case. Yes, it is built to also be a backpack, and has great padded shoulder straps with 5 adjustment points and a waist band, but it has a dry weight of nine pounds. Once you load it up with a DSLR, 3 or 4 lenses, an external flash, laptop and other accessories, it starts to get very heavy and you wouldn't want to carry it for any great length of time. If you already have two rolling suitcases, and no more free hands, then I can see you wearing it as a backpack while you walk to your terminal or find your hotel room, but if you have the choice you will likely want to use this as a roller case where you can.
Overall Value (4 out of 5)
Lowepro list the Pro Runner x350 AW at $299, but you can get it on Amazon right now for a more reasonable $229.95. Is it worth that much? It is certainly among the more expensive camera bags available, but it is not the most expensive by any means and the quality is undeniable. Besides, when you consider the outstanding job it will do transporting your valuable cargo, the price of this Lowepro camera bag suddenly seems a lot easier to justify.