A Review of the Gary Fong Lightsphere Collapsible
What is it?
The Gary Fong Lightsphere Collapsible is a flexible, portable flash diffuser that builds upon the success of the already popular standard Lightsphere. Its purpose is to soften the light coming from your hot shoe mounted flash in order to give more natural looking flash photos. It does this by bouncing the light around the Lightsphere, sending it out in all directions, in order to create less shadows and provide a more accurate color rendition in your images. It is designed to fit almost any flash that has a swiveling head.
Design and Build Quality (5 out of 5)
The design of the Lightsphere Collapsible is simple but clever. It has a similar conical shape that mimics the original Lightsphere, but it has been refined slightly in order to help it fold in on itself for easy storage. Attaching it to your flash is not difficult and is based around some flexible, yet grippy, rubber teeth on the inside of the diffuser. These teeth are the key to the Collapsible's universal fit among flashes. They also provide a strong grip that will ensure that the Lightsphere does not come off by accident when you are in a hurry or need it most. If you like to work with a variety of diffusers, be aware that removing the Collapsible will take longer than some rival products, but it does have the advantage of being able to fold flat on your camera if you want to use direct or unmodified bounce flash. I used the Collapsible on a Metz 48 AF-1 and it was a great fit, but the design of this diffuser means that it can work with a whole variety of brands and flash sizes.
Images of the Lightsphere Collapsible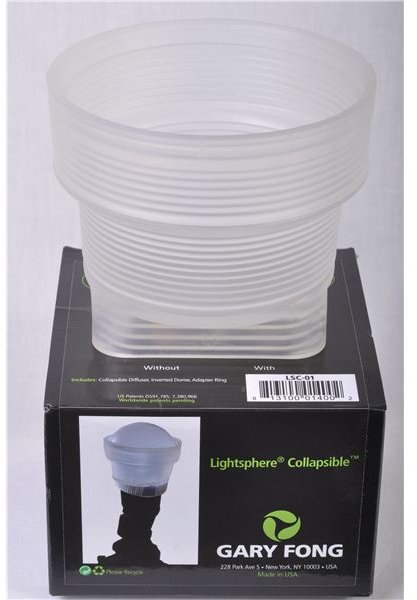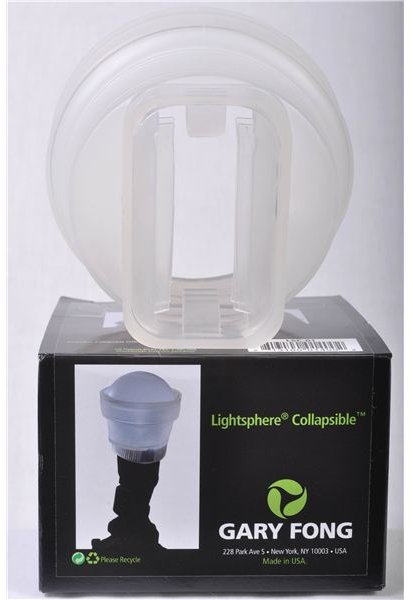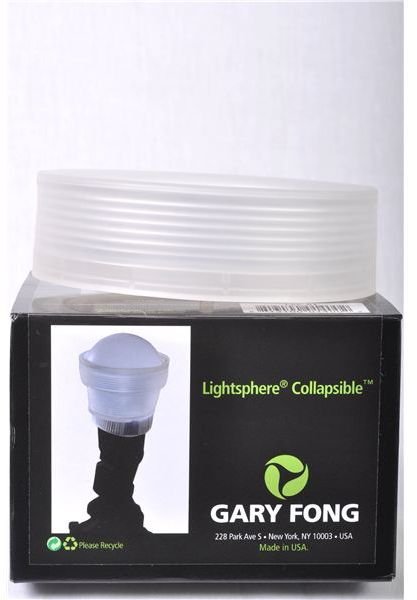 Ease of Use (4 out of 5)
Essentially, this is an easy to use accessory. You tilt your flash head into the upright position and simply push it on. Most people will be able to work that out for themselves, but what about the ring and the dome that comes with the Lightsphere? Well, instructions are included to help with that but they are clearly designed for an international market. That is, there are no written instructions, simply a collection of pictures to help describe to you how you should use the Lightsphere Collapsible in a variety of shooting conditions. A better introduction might be the videos you can find on the Gary Fong website. In these, the creator takes you through the concepts behind the Lightsphere and offers some suggestions on how you might use it.
Effectiveness (4 out of 5)
Is it better than direct flash? Yes. Is it better than regular bounced flash? Most of the time. In my own portrait tests I often found that the Lightsphere Collapsible did a great job at rendering a more flattering lighting. In a few scenarios, the differences between bounced flash and the Lightsphere seemed negligible, but overall the Gary Fong diffuser did give better results. The lighting was softer and skin tones looked more natural. Given time, and the chance to experiment, I expect that you would find the same results. It is something that takes a little bit of getting used to, but not something that will take you a whole lot of time to figure out.
Overall Value (4 out of 5)
Currently, you can buy the Gary Fong Lightsphere Collapsible from Amazon for $56.15. This might seem a lot for a piece of molded rubber, but there are few better ways to achieve the effects that this product can offer. If you are serious about flash photography, then the portable Lightsphere Collapsible could be just what you are looking for.
This post is part of the series: Gary Fong Products
Find out about the latest Gary Fong photography products with these in-depth reviews.