The Best Nikon Camera Bag: Top 5 Recommendations & Buying Guide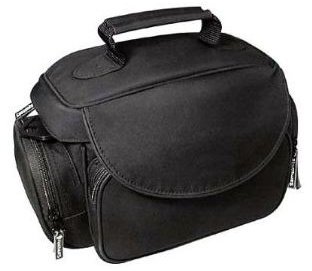 Introduction
One of the most important parts of taking care of a Nikon camera is finding appropriate and quality storage for it, whether it is just going to be set aside or carried to different locations. If you are an owner of a Nikon camera, you should know this. If you do not have a Nikon camera bag yet, you should fix this issue immediately to keep your camera safe and secure. Here are some suggestions for you when you are ready to purchase your very own Nikon camera bag. You may also benefit from reading Tips for Choosing the Best Camera Bag - this article will provide you with various features you should look for when purchasing a new camera bag.
Opteka Microfiber Deluxe Photo/Video Camera Gadget Bag
This gadget bag has enough compartments and pockets to hold your camera and its accessories. It has a total of 9 main compartments, two side pockets, a front zippered pocket and a zippered mesh pocket located in its lid. Its compartments are protected by a dura-foam padding, minimizing the effects of shock and stress to your camera equipment. You can easily carry it because of its fast-grip shoulder strap which is contoured and padded. If you have a video camera, you can use this gadget bag to carry that too. You can purchase it for $14.95.
Nikon Backpack for DSLR, Lenses and Laptop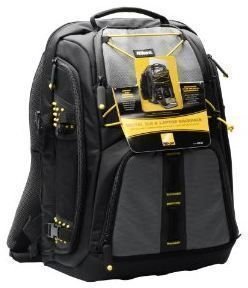 If you want to carry your camera equipment around but you want both your hands to be free like during hiking trips, your best option is a camera backpack. This backpack from Nikon offers protection from shock and impact, as well as from the elements, while providing an efficient way to carry your equipment. Designed by Nikon itself, you are assured that your Nikon digital camera will fit right inside its compartments. This backpack is also designed to carry a laptop, so carrying your laptop on your back is possible too. The price for this backpack is $59.95.
Nikon Digital and Film SLR System Case Gadget Bag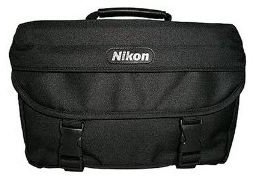 This gadget bag is specifically designed to hold a 35mm or a DSLR camera even with a zoom lens attached to it. It also has extra compartments to hold 2 or 3 extra lenses and a flash. The material used for this gadget bag is nylon, which provides one of the most durable and wear-resistant protection available. You can purchase this Nikon camera bag for $29.95.
Nikon Starter Digital SLR Camera Case Gadget Bag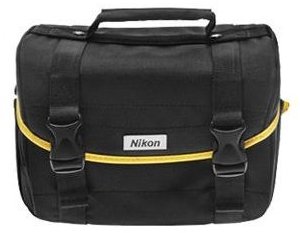 Its compact design gives it an elegant look, but it offers more than just a clean design. It has multiple pockets for all kinds of accessories, big or small. Of course, there is the main compartment which can hold a compact DSLR camera plus a couple of lenses and a flash. Aside from providing storage and protection, this gadget bag comes with a microfiber cleaning cloth which can be used to effectively clean your camera's LCD screen and lenses without causing scratches. You can buy this for $27.95.
AmazonBasics Backpack for SLR Cameras and Accessories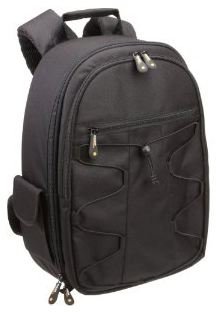 Here's another Nikon camera bag that you can carry on your back. This backpack can hold an SLR or 2 small SLR cameras, 3 or 4 lenses and several small accessories. Aside from offering enough room for your camera and its accessories, this backpack also provides maximum protection from impact thanks to the material use which is a combination of nylon and polyester. This backpack sells for $35.84.