Read Our Roundup to Find the Best Canon Macro Lens for Your Photography Needs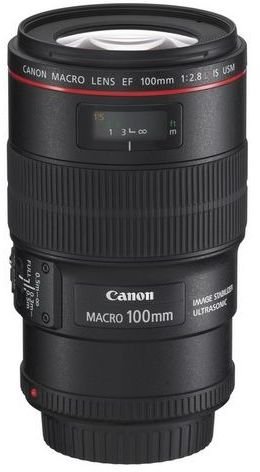 Macro Photography
Bringing visuals to life like and often larger than life sizes makes for compelling imagery. As any aspiring photographer would know the magic of macro photography is endless. Besides, when you're shooting macro you never run out subjects to photograph! You can look around and find at least 10 compelling macro shots, everything from bugs to flowers. The appeal that macro photography stems from the fact that it brings subjects which you've never paid close attention to, to the center of your attention. The power of macro photography rests on the powerful optics that is used to blow up a minuscule object to a size that just makes it hard to miss. There are several quick and dirty tricks like the reverse-lens technique and using modified binocular lenses (for point & shoot cameras) to get a macro shot. However, dedicated macro lenses very easily outperform these and help you come away with stunning macro shots. Of course, just having the equipment will not suffice, you can always read around for good macro photography tips online and in books. In this article we'll have a look at the best Canon macro lenses available for Canon customers and see how they differ from each other.
Canon EF100mm F/2.8L IS USM Macro
Max magnification: 1:0.92
Mount: EF
Weight: 1.4 pounds
Length: 4,8 inches
Filter size: 67mm
Image Stabilisation: yes
For quite some time the below mentioned Canon EF 100mm f/2.8 USM Macro lens was the best Canon macro lens that money could buy. In September 2009, Canon released for the first time an L series macro lens with a wide aperture and image stabilization. As is the case with Canon's L series lenses the new macro lens comes with a sturdy weather resistant build, L-Series construction, silent AF with hybrid IS and a 3 way AF limiter switch. The lens is one of the best macro lenses available in the market today. No distortion observable, no edge fall off in the macro range and amazing sharpness even at wide open apertures makes this easily the top of the list of Canon's macro lenses. On a full frame sensor the lens provides a very comfortable working distance with it 100mm focal length and becomes much more so when attached to a crop sensor body. The newly introduced hybrid IS (Image stabilization) provides up to 4 stops of hand holding capability! All this goodness comes at a price of $952 on Amazon.
Canon EF 100mm F/2.8 USM Macro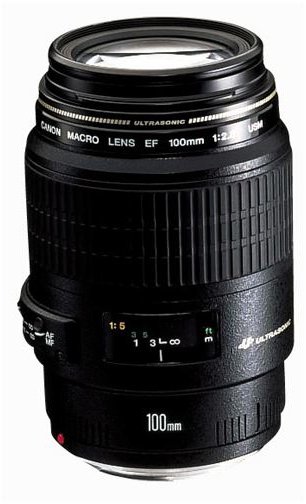 Max. magnification: 1:0.93
Mount: EF
Weight: 1.3 pounds
Length: 4.6 inches
Filter size:58mm
Image Stabilisation: no
This is the second best lens from Canon in terms of image quality for a macro. In fact, it is definitely the most popular Canon macro lens since most people don't have the "dough" to spend on a L series lens. The 100mm f/2.8 USM Macro provides the best bang for the buck! The USM provides a fast and silent focussing capability with a wide aperture. There is some vignetting observed on full frame bodies when opening up the lens completely but again that can be corrected with lens correction software tools. The lens is built satisfactorily and is not heavy, though the absence of image stabilization makes hand holding not a convenient option. All in all this one of the best purchase recommendation for a macro lens from Canon which doesn't dent your bank account and provides great quality for the price. The Canon EF 100mm f/2.8 USM Macro lens retails for $519 on Amazon.
Canon EF-S 60mm F/2.8 USM Macro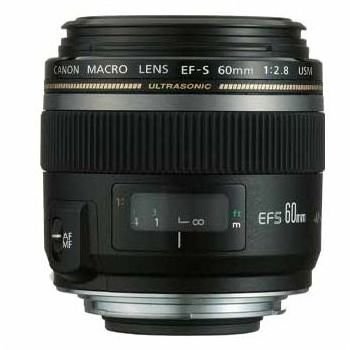 Max.maginification:1:0.9
Mount: EF-S
Weight:0.8 pounds
Length:2.7 inches
Filter size: 52mm
Image Stabilisation: no
The Canon EF-S 60mm f/2.8 macro lens is directed towards entry level photographers looking to break into macro photography. The lens has a EF-S mount and as such only goes onto crop sensor cameras from Canon. The USM feature of the lens makes it a quick focussing lens and the build quality is good for a lens of this category. Performance at wide open apertures is very good and sharp, of course it becomes better when its stopped down. Color and contrast of the images coming from this lens are good and it can easily be compared to that of the 100mm f/2.8 fullframe macro lens from Canon. The 60mm macro is a true-macro lens in that it provides close to 1:1 magnification (also can be increased with the help of extension tubes), though the working distance could have been a bit better. Apart from the above mentioned drawbacks the 60mm f/2.8 USM macro from Canon is a fantastic lens and can also be used as a great portrait lens as well. Good value for money makes this lens a go-to lens for people just looking to try macro photography and don't want to spend too much on a dedicated macro lens, but still need the magnification. The lens is available for $420 on Amazon.
Canon EF 50mm F/2.5 Macro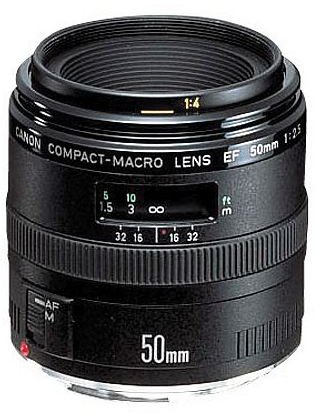 Max. magnification: 1:0.93
Mount: EF
Weight: 1.3 pounds
Length: 4.6 inches
Filter size:58mm
Image Stabilisation: no
This is one of Canon's shortest length lenses, and is also called a Compact Macro. In truth the Canon EF 50mm f/2.5 is not a true macro lens as the magnification offered by it is only 0.5x whereas true macro lenses offer 1:1 magnification. That said, this lens does help you capture pretty up-close shots easily and comes with decent enough build for the price. The front of the lens is recessed and extends a bit but does not rotate. The lens offers a wide open aperture of f/2.5, though the images do become soft. The lens is very sharp at f/3.2 and above. The lens does not come with a USM motor hence the focus is not fast, though if you've shot with non-USM lenses you know what to expect. All in all this a great standard 50mm lens which can go pretty close as well for some macro-ish shots. The lens is full-frame compatible as well so upgrades at a later time shouldn't be a problem. All in all the Canon EF 50mm f/2.5 Macro lens is a worthy buy if you don't need to have a fast 50 as well as a separate macro lens. At $265 it does not dent your wallet but gives you a price worthy performance.
If you're looking for zoom lenses, then don't forget to check out the top 5 Canon Zoom lenses article to help you with your decision.