Coolpix L100 w
The Nikon Coolpix L100 camera is a small digital camera with a very large zoom. This comes with a lot of features in a small body. It's average-priced compared to similar cameras in the same category, including the Canon PowerShot and Kodak EasyShare. However, this camera does have some major drawbacks.
Body (4 out of 5)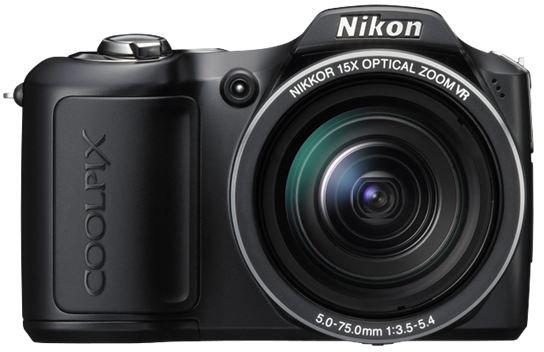 Before moving on to the problems, let's start with the good. The Coolpix L100 digital camera body is sharp looking, and it fits comfortably in the hand. It features a 15x zoom lens. This 10 megapixel camera's dimensions are 4.2 inches wide by 2.8 inches high by 3 inches deep, making it very small. You can easily slip this digital camera into a purse or a large pocket. The camera is fairly lightweight at 15.8 ounces.
It features a 3 inch LCD screen, and it comes with both electronic and mechanic image stabilization technology. You can easily reach the controls, and the handgrip is very comfortable.
It features the Zoom-NIKKOR glass lens that allows you to take both wide angle and telephoto lens. The wide angle lens is 28 mm, and the telephoto lens is 480 mm. For a point-and-shoot camera, this is a pretty significant lens. The lens, however, still isn't as powerful as the ones that you find on a DSLR camera. The images also suffer a bit the further that you zoom out.
Features (3 out of 5)
This camera is good for beginners because you can easily change settings or delete images. The menu is very intuitive. You can also access all major options within the same menu screen.
The auto features work extremely well and are easy to use. It comes with several automatic scene modes, including landscape and portrait modes. It also has some predefined ISO settings. The images are fairly noiseless, and the color is mainly accurate.
This Nikon Coolpix comes with EXPEED, which is a built-in image processor. This is a Nikon technology that helps your images look more natural.The feature does work fairly well. Your pictures do have a natural glow as long as you don't zoom too far out.
A really nice feature of this camera is the "Sports Continuous" scene mode. Continuous mode allows you to hold down your shutter release button and take a series of pictures at once. You can capture images up to 13 frames per second, and the camera takes up to 30 images at once. But, this technology isn't perfect. You can only take pictures in this mode if your resolution is 3 megapixels or lower. You won't be able to take advantage of the full 10 megapixels of the camera.
The Coolpix also has a motion detection feature, which detects when your subject is moving. It then automatically changes the shutter speed and ISO setting based on that movement. This means that your images won't be blurry or noisy even if your subject isn't standing still.
Drawbacks (2 out of 5)
There are some major downsides this camera. You can't use rechargeable batteries with this camera. It only accepts lithium cells or alkaline batteries. This means that you need to bring a lot of these batteries with you if you are going on a long shooting spree. It also means that you'll be spending a lot on batteries.
A major problem is that this camera doesn't have any manual controls. You can't manipulate the ISO at all. You can only use the predefined settings. As you zoom out, the images aren't as sharp as the ones taken without zooming. You can store a lot of video on the camera. But, you can only take video on standard definition. The camera does not support HD video capture. Finally, you have a large LCD screen where you can view your images. But, you can't really view a slideshow of those images.
Bang for Buck (3 out of 5)
Overall, the camera has a lot of features, and it's easy to use. The picture quality, however, does not stand up as well as the competition. But, if you are looking for an easy-to-use and cheap camera, the Nikon Coolpix L100 digital camera is perfect for Facebook or other social networking photographs. While the image quality does suffer a bit, it does a number of really nice features, especially the "Sports Continuous" scene mode for capturing moving objects.
This is a good camera for teenagers or beginning photographs. It's easy to use and fairly lightweight. If you are, however, looking for a budget camera with a lot more power, then you should consider some of the options in this price range.
References