Top 5 Recommended Manfrotto Tripods for Your Cameras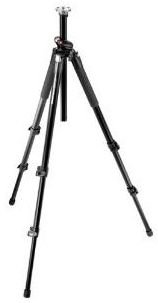 Introduction
Manfrotto tripods are digital camera tripods designed with stability, portability and ergonomics in mind. These characteristics provide a comfortable, efficient, flexible and versatile way for photographers, both amateur and professional, to set up and position their cameras for photo shoots. Here are 5 recommended products from Manfrotto's range of tripods.
Manfrotto 055XPROB Pro Tripod Legs
The angle release mechanism of this tripod provide an easy and comfortable way to store it, and setting it up is quite as easy thanks to its quick action leg locks. Swinging it in a horizontal manner is also an easy task, without requiring any disassembly in its column area. This makes positioning and framing quite an easy and quick task. It comes with leg warmers that make handling the tripod comfortable and easy.
Price: $145.36
Manfrotto 190XPROB 3 Section Aluminum Pro Tripod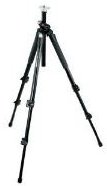 Its user friendly design is the primary reason why this tripod is very popular among professional photographers. Its preset leg angles allow for stability even in undesirable terrain and weather conditions. The comfort and ease factor are also provided by the the quick action leg locks, the horizontal column feature and the leg angle release mechanism. Positioning and framing are easy tasks with these features, whether they require shooting in low positions or in angles that require swinging the column in a vertical or horizontal manner.
Price: $120.80
Manfrotto 190XDB 3 Section Aluminum Tripod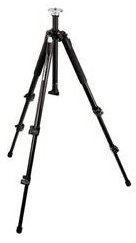 Its aluminum design provides stability while still giving photographers a flexible tool for setting up shots. Carrying it around and storing it are tasks made easy thanks to the lightweight nature of the aluminum frame, making it an ideal tripod for outdoor photo shoots. It only weighs in at 3.52 pounds yet it can support as much as 11 pounds of equipment. Its 3 leg sections and 3-faceted column cross sections provide stability along with comfort, thanks to it leg angle release mechanism and quick action leg locks designed for quick and easy positioning.
Price: $86.97
Manfrotto 190CXPRO3 3-Section Pro Carbon Fiber Tripod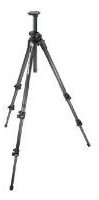 Made from 100% carbon fiber tubes and magnesium die castings, this tripod offers stability and rigidity to photographers. This kind of strength comes in a lightweight design, making it easy to transport and store, which is perfect for on-location photo shoots. It is quite a heavy duty tripod that offers lightness and flexibility thanks to its column swinging capability that lets users swing the column vertically or horizontally easy and fast. Even in difficult weather conditions or uneven terrain, it is easy to set up a level position with this tripod thanks to its built-in leveling bubble on its top plate.
Price: $265.08
Manfrotto 055CXPRO3 Carbon Fiber 3 Section Tripod with Q90 Column and Magnesium Castings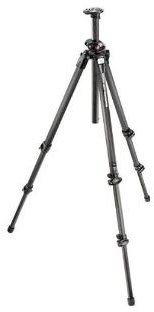 For professionals who demand high performance, versatility, stability and comfort from their tripod, this is a great choice. Like the other Manfrotto tripods, this one features the Manfrotto signature Q90-degree center column system that lets users swing horizontally or vertically in a quick and easy way. It is designed to be an extremely lightweight tripod with an ergonomic design, making positioning a quick and easy task. Its carbon fiber structure not only makes it easy to position and to carry around, it also provides strength and stability that makes it possible for users to mount heavy digital devices on it.
Price: $355.39
References
https://www.amazon.com/Manfrotto-055XPROB-Tripod-Legs-Black/dp/B000UMX7FI/ref=sr_1_1?ie=UTF8&qid=1297141801&sr=8-1
https://www.amazon.com/Manfrotto-190XPROB-Section-Aluminum-Tripod/dp/B000N7VPRW/ref=sr_1_2?ie=UTF8&qid=1297141801&sr=8-2
https://www.amazon.com/Manfrotto-190XDB-Section-Aluminum-Tripod/dp/B000N81BXO/ref=sr_1_5?ie=UTF8&qid=1297141801&sr=8-5
https://www.amazon.com/Manfrotto-190CXPRO3-3-Section-Carbon-without/dp/B0015MFTE4/ref=sr_1_6?ie=UTF8&qid=1297141801&sr=8-6
https://www.amazon.com/Manfrotto-055CXPRO3-Section-Magnesium-Castings/dp/B001GIPR5S/ref=sr_1_10?ie=UTF8&qid=1297141801&sr=8-10
Photo Courtesy of Amazon.com