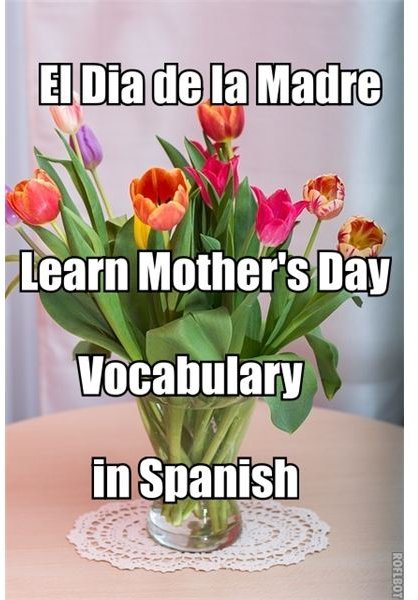 Although El Dia de la Madre –Mother's Day– is celebrated in many countries the world over, the date varies. In Spain, Mother's Day always falls on the first Sunday of May. In Mexico, Mother's Day has a fixed date, which is May 10 and in Argentine, Mother's Day is celebrated in October.
Words and Phrases
The most important proverb is this:
Madre no hay mas que una – you only have one mother
La madre – mother
Te quiero – I love you
Los hijos – children
El corazon – heart
El alma (f) – soul
El nacimiento – birth
feliz – happy
Las felizidades – congratulation
El amor – love
El agradecimiento – gratefulness
La celebracion – celebration
La ternura – tenderness
La dulcura – sweetness
El Domingo – Sunday
El Mayo – May
El ramo de flores – bunch of flowers
La rosa – rose
El desayuno – breakfast
El regalo – gift
Hecho a mano – hand made
El beso – kiss
El abrazo – hug
La mejilla – cheek
La boca – mouth
conmemorar – remember
Celebrations and Rituals
La tarjeta – gift card
Gift cards play an important role and much effort is made by Spanish children to make the gift cards themselves. On Sunday, children wake their mothers with a kiss and a hug, bunches of flowers, the precious cards and any other gifts the children may have bought or made to celebrate the special day and honor their mothers. They might also serve her breakfast in bed, which in Spain would be coffee and pastries. All day long, they will try to be on their best behavior.
Poem
Learn more Spanish words with this lovely poem (an extract) by Rosalia de Castro:
Yo tuve una dulce madre
I had a sweet mother
concedieramela el cielo
whom heaven gave to me
mas tierna que la ternura
softer than softness
mas angel que mi angel bueno
greater angel than my guardian angel
en su regazo amoroso
in her loving lap
sonaba – sueno quimerico
I dreamed a fleeting dream
dejar esta ingrata vida
to leave this miserable life
al blando son de sus rezon
listening to the soft murmur of her prayers
mas la dulce madre mia
and my sweet mother
sintio el corazon enfermo
felt the broken heart
que de ternura y dolores
which with sweetness and pain
ay! derritiose en su pecho
melted in her breast.
pronto las tristes campanas
and soon the sad bells
dieron al viento sus echos
sent their echos into the wind
muriose la madre mia
my mother died
senti rasgarse mi seno
and I felt my breast torn apart
la virgen de las Mercedes
the virgin of Mercedes
estaba junto a mi lecho
was close by my bed
tengo otra madre el lo alto
I have another mother Above
por eso yo no me he muerto
therefore I didn't die.
Feliz Dia de la Madre! Happy Mother's Day!