Overview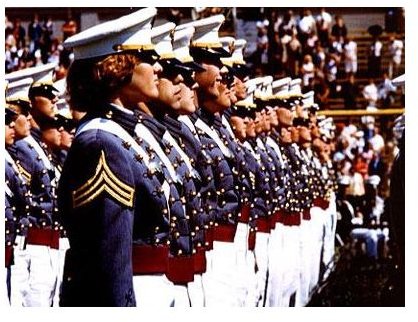 Military colleges are colleges that emphasize a military education as a major part of the curriculum. Emphasis is laid on leadership development, military science, warfare studies, history, international law and courses specific to a particular branch of the military. Since there are only a handful of military colleges in the United States, there is no ranking of military colleges per se and therefore no top 10 military colleges. However some of the military colleges are also highly ranked in other categories by the U.S. News and World Report college rankings.
Federal Service Academies
There are five federal service academies in the United States. These are colleges that prepare students for careers in four of the five branches of the military as well as the United States Merchant Marine Service. The federal service academies are funded by the U.S. government, tuition is free and the students are expected to put in a number of years of active duty service in exchange for the education they receive.
Each of these schools is highly-ranked and provides an exceptional education for the few students able to gain admission. Army and Navy are both ranked number 16 in U.S. News and World Report's ranking of national liberal arts colleges. Air Force is ranked number 1 in regional colleges (West), the Coast Guard Academy is ranked number 1 in regional colleges (North) and the Merchant Marine Academy is ranked number 3 in regional colleges (North).
Application to these schools is a competitive process and in all cases except for the Coast Guard, you are required to be nominated by a member of Congress.
Other Military Colleges
There are other military colleges not belonging to the federal government that also provide a military education and prepare students for a career in the military. Some of these are state-owned, such as Virginia Military Institute, while others are private, such as Norwich University. Others like Virginia Tech and Texas A & M have smaller military colleges within the larger university that have a significant number of cadets.
Here is a list of other military colleges in the U.S. that according to the Association of Military Colleges and Schools in the United States (AMCSUS) provide military education and are accredited. This list is not ranked.
The Citadel, Charleston, SC
Maine Maritime Academy, Castine, ME

North Georgia College & State University,

Dahlonega, GA

Norwich University,

Northfield, VT

Texas A&M University,

College Station, TX

The State University of New York Maritime College,

Throgs Neck, NY

Virginia Military Institute,

Lexington, VA

Virginia Tech Corps of Cadets, Blacksburg, VA

Virginia Women's Institute for Leadership at Mary Baldwin College, Staunton, VA
Image Credit: Business Insider (https://www.businessinsider.com/best-colleges-2010-11?slop=1)