Windows 7 Email Client Software
Email has become such a common tool for computer users that it gets taken for granted. Numerous email services exist entirely online so that users can access their email inbox from anywhere on any computer. Google Gmail, for example, offers email wherever you have a web browser.
What internet based email services have in terms of portability, they lack in terms of advanced email features and functionality. Locally installed Windows 7 email clients offer the advanced functions that power email users require. The best part is that the good ones all integrate nicely with those go anywhere online email accounts. In fact, a good email program for Windows 7 offers users the best of all worlds when it comes to email.
Microsoft Outlook Email Client for Windows 7
Microsoft Outlook has leveraged its position within the Office suite of applications and the widespread option of Microsoft Exchange by business to become one of the most commonly used email clients on Windows computers, and Windows 7 is no exception. In Office 2010 Home and Business Edition, and up, users get Outlook bundled with their copies of Word 2010, Excel 2010, and the like. That means that despite its huge feature set, many users are all set for using Microsoft Outlook for Email.
The Outlook email client has more going for it than just being common. It offers advanced features for almost all email functions. Outlook supports many kinds of formatting, and enriched content for email messages, maybe too much. If the user on the other end doesn't also have Microsoft Outlook, some of that fancy editing can get dropped altogether. If that does not concern you, you can go even further by tweaking the look and feel with some of the best Microsoft Outlook email themes.
Outlook offers everything but the kitchen sink in one package. Multiple email accounts can be managed separately or grouped together so that all 11 of your email accounts appear as one gigantic inbox. Email accounts setup withing Outlook are indexed by default with the new advanced search for Windows 7 which means that when you can only remember that you had an email or text file or something with the access code for the new building annex, you can still find that message by searching for building annex code and letting the search do all the work.
Outlook fully supports connecting to Exchange email servers, which is very important in the corporate world. For non-business users Outlook supports the Internet standard email protocols, both POP3 and IMAP 4 which means that it can handle those Gmail accounts as well as the company's Exchange servers.
Whatever functionality or features you are looking for, chances are Outlook email has them, and that may be the program's biggest weakness. Outlook has many features that have nothing to do with email which clutters up the interface and may make certain tasks more complicated than necessary. For users wanting a Windows 7 email client just for mail may want to try a different email software package.
Windows Live Mail 2011
Windows Live Mail client is part of Microsoft's Windows Live Essentials suite of software tools. That means it is free to anyone who creates a Windows Live account.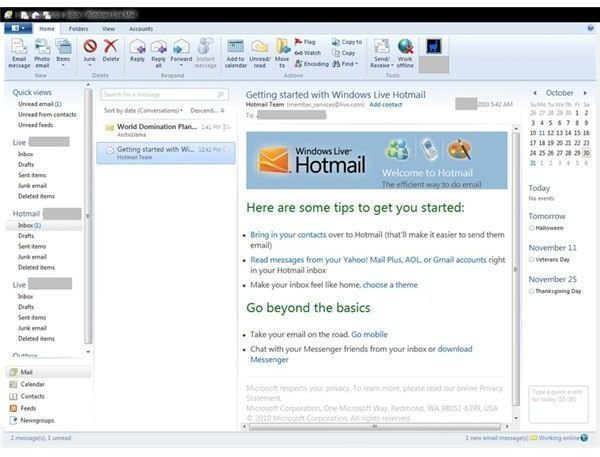 Although some parts of Windows Live works on several operating system versions, such as Windows XP and Vista, the primary focus of the applications is Windows 7 and beyond. Windows Live Mail is designed both as a standalone email client, and as an email tool for users of Microsoft's Windows Live online service. It is also the client for Office Live Small Business email. As such, it integrates seamlessly, and automatically with Microsoft's Hotmail email service. It also supports email standards like POP3 and IMAP4. Using WLM for Gmail is simple once you set up your Gmail POP settings correctly.
The Windows Live Mail client has much of the same email feature set as Microsoft Outlook. That's not surprising considering that Microsoft develops both products. However, in maintaining the Windows Live portability model, the interface is much more streamlined. Advanced options and configurations, as well as behind the scenes security and configuration features used by businesses with Outlook are not present in WLM, which benefits home users and small business users that don't use in-house email servers or remote client management.
As a free email program for Windows 7 that offers the standard Microsoft Office ribbon interface, Windows Live Mail is a good starting place for users who like the idea of a Microsoft email client, but who don't want to pay for Outlook or load up the bloated program just to check email. Unlike its predecessors, Windows 7 does not have a built-in email client like Outlook Express. WLM is Microsoft's official answer to those who ask where the email client in Windows 7 is.
Image courtesy of ArcticLlama Freelance Writing
Mozilla Thunderbird
Mozilla Thunderbird email client is a free open-source email client from the Mozilla Foundation. The same organization develops the popular Firefox web browser.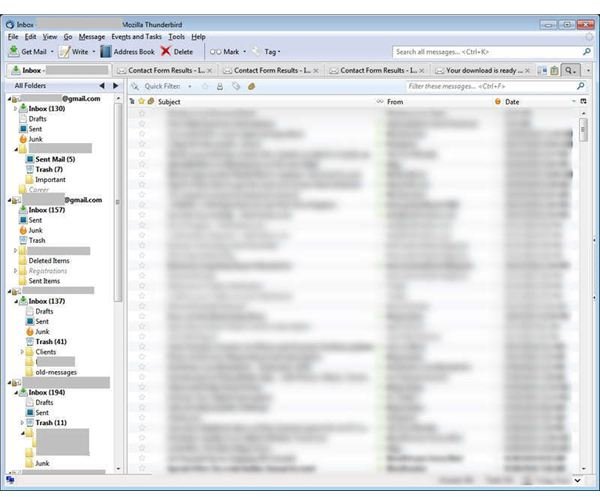 Thunderbird supports a wide variety of email services and protocols. Like Outlook and Live Mail, Thunderbird supports both POP3 and IMAP4 email protocols. In addition, Thunderbird automatic setup for several common online email services makes setting up internet email accounts a snap. For internet email servers without automatic setup routines pre-defined, Thunderbird attempts to automatically detect the email server's settings by trying common configurations and using standard email ports.
For example, when setting up an email account at my freelance writing business ArcticLlama.com, Thunderbird tried using mail.arcticllama.com as the incoming email name and smtp.arcticllama.com as the outgoing email server name. For those names it tried both POP3 settings and ports as well as IMAP settings and ports in an attempt to detect the correct settings. When it works, it makes setup and configuring Thunderbird email client server settings very simple. Of course, email server settings can be configured manually as well.
Unlike many other email clients, Thunderbird does not come with a built-in calendar. For users looking a pure email client, this is good. For users who would prefer an integrated calendar solution, Mozilla's calender and scheduling program, called Sunbird, integrates quickly into Thunderbird as user installed add-on called Lightning. Once installed, the calendar and appointment features familiar to Outlook and other calendar users are easy to access from within the Thunderbird email client.
Thunderbird offers many powerful email features including support for multiple email accounts, searching messages across all email accounts, and the option to view each email account individually, or as one combined inbox by using the "Global Inbox." Thunderbird offers several features to help organize a large volume of incoming email, including the ability to Tag and Star messages according to their category or importance.
Users looking for a free email client would be wise to start by looking at Thunderbird mail.
Eudora Email Client
Eudora was making email clients back when you had to pay extra for POP3 access or more than 25MB of storage from all of the major online email services. Over the years, it has been overshadowed thanks in large part to the bundling of Outlook with Microsoft Office, the rise of web-based email, and the inclusion of free email clients in major operating systems.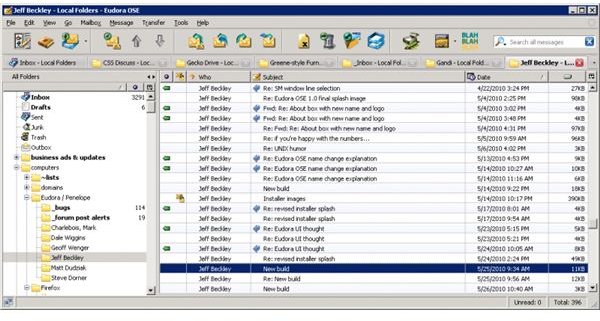 For several years Eudora was offered in free, or sponsored, versions or a paid version with more features. Eudora is owned by Qualcomm who recently shifted the Eudora mail client to the open-source model. The Eudora client today is based on Mozilla Thunderbird, with the Eudora interface and features set built on top of Thunderbird. As such it offers many of the same features and functions as Thunderbird, but with a classic style user interface and additional features.
Users who like the flexibility and power of Thunderbird, but who don't like the interface should take a look at Eudora email client for Windows 7 computers.
Image source: Eudora OSE
Alternative Windows 7 Email Clients
There are many more email clients for Windows 7 available from a wide variety of developers.
IBM offers an email client that goes with its Lotus Notes messaging and email platform.
Yahoo offers Zimbra email client software that offers both a server and client software pairing, as well as a standalone Windows 7 email client that integrates well with Yahoo.com email accounts. Users who have more Yahoo email accounts than they do Gmail accounts and Hotmail accounts might want to try Yahoo Zimbra.
Users looking for a smaller email-only client might like Postbox Express, a Windows 7 email client with a simple interface to go with its single-minded focus on email. Like all of the other email clients mentioned here, it supports internet email standards like POP3 and IMAP4.
Others?
Did we fail to mention your favorite email client? We know that there are others out there, but did we miss YOUR personal favorite email client for Windows 7? If so, leave a comment with what makes your email client your favorite client and I'll be happy to take a look.