Getting the Most out of Microsoft Money – Import Quicken Data
Quicken is a popular personal financial tool, available to users in the USA and Canada. It was available for users in the UK up until 2005, when sales and support was withdrawn. It has a flexible format, allowing it to be relatively easily converted for use in other systems. As well as Microsoft Money, Quicken data can also be used in QuickBooks.
Whether you're simply migrating to Microsoft Money, or you're an ex-Quicken user from the UK needing to get their data into Money, this guide explains how to manage the export of your data import it into Microsoft Money.
When it comes to migrating data from one financial system into another, continuity is paramount. As such Microsoft Money doesn't just convert your data – it leaves the original information intact so that you can continue to use it in Quicken.
Data Compatibility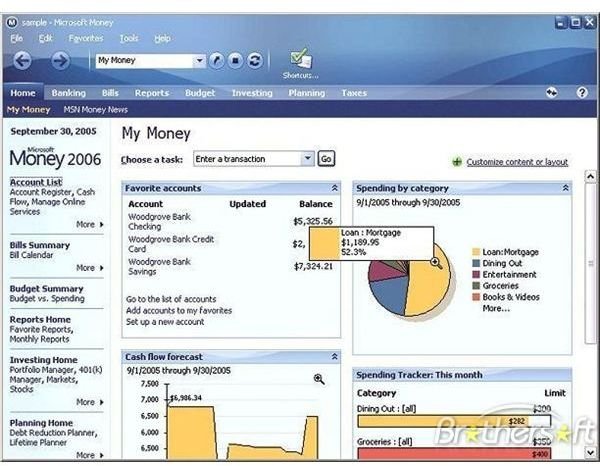 To import data into Microsoft Money, you need to be exporting from a version of Quicken older than the version of money you're using. For instance, you cannot import Quicken Basic 2007 data into Microsoft Money 2006 – you would have to purchase a 2008 version of the application in order to do this.
There are also various checks you should make before performing a conversion of data  – from security settings to being aware of what will be and what will not be converted.
Pre-conversion checks
The conversion cannot work if you have a password set in your Quicken data. This can be fixed by opening the file in Quicken and clearing the password. The Password can be re-applied in the converted Microsoft money data later on.
Also, you should be aware that certain information might be re-labelled or be dropped as it is converted into Microsoft Money format:
• User-defined custom securities will appear as Mutual funds.
• Payee information in fields that Money does not support will be dropped
• Any accounts or information that Money does not recognize will be dropped.
• The Memorized Transaction list will be dropped
Converting Quicken Data to Microsoft Money
To run the conversion, open Quicken and begin by creating a backup of your data. This can be done from the File menu – go to Backup, set the intended file location for your backup and proceed until the backup is complete.
Next, open Microsoft Money. Go to File > Convert Quicken File and Browse for your data file. The default name is Qdata.qdf – make sure you choose a file with the *.qdf file extension.
Finally, click on Convert and follow any on-screen instructions in the conversion wizard.
Your converted file can now be opened, read and manipulated in Microsoft Money!