The Missing Plug-Ins and Incompatibilities
Internet Explorer expects you to download and install plug-ins and does not have the option of automatic updates of the browser. Mozilla Firefox allows for automatic updates, which is why many prefer it even when there are many new browsers hitting the market.
When you need to open a site that requires many plug-ins, you end up with the following message: 'Internet Explorer cannot open the following internet website'. This is annoying to many people, especially those who have been ardent supporters of Internet Explorer all along.
More Security Problems?
There have not been too many striking security advancements in this version of Internet Explorer. A few years back there were loads of notifications warning users not to use Internet Banking and other personalized features with IE because of the security concerns. To date, there has not been any response from the developers regarding this and even when a new version of the browser was developed, this problem was not stressed upon.
Even today, IE8 allows many unsafe sites to be opened with just warnings. In some cases, you either get annoying error messages or you simply cannot open websites from IE8. Many people are not satisfied with such a response. Even after the release of Internet Explorer version 8, other browsers like Firefox and Google chrome and Opera are considered superior options.
However, something worth noticing is the fact that being unable to open particular websites has nothing to do with the Security Problems in IE 8.
Main Causes of the Error and its Remedies
If you cannot open websites from IE8 and happen to be the owner of that website, it could be quite frustrating. However, there are certain simple ways through which you can get rid of this problem. This occurs if the computer is not able to understand the JavaScript code in the website that you are trying to open.
Try the following actions:
1. Removing all the codes of Google AdSense, FeedBurner and other similar applications.
2. Add the codes back one by one to try to determine when the error message pops up. Any specific code would be the one causing the problem.
3. Try removing or replacing that particular piece of code snippet.
If you have Google Maps API, you may face such problems with opening a few sites.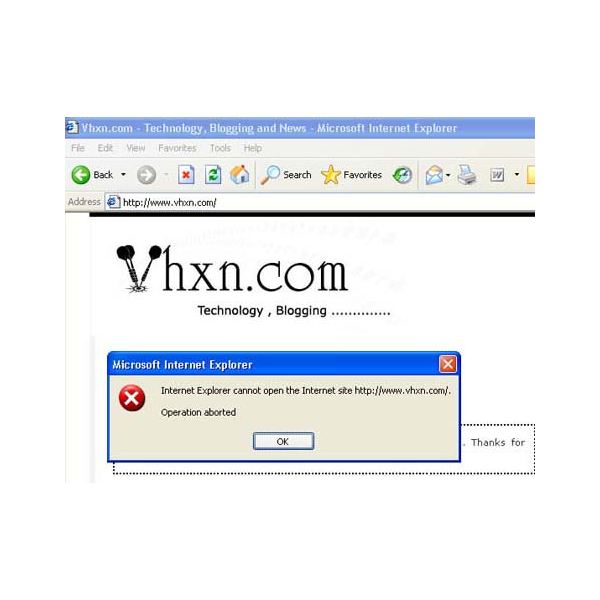 The Biggest Culprit Behind the "Cannot Open Websites from IE" Error!
Many websites have crashed due to a known issue – the placement of "Sitemeter" code (a code used to track the website visitor count and other analytics, just like Google analytics). Sitemeter has been able to provide disaster recover and currently everything is fine, but if your website keeps crashing in Internet Explorer, keep an eye on the Sitemeter code. Remove it and check the performance of the site as well.
The Sitemeter bug was the biggest known bug in recent times, which has resulted in crashing of hundreds (or rather thousands) of sites in IE, especially IE7 and IE8.
More Miseries with IE 8
If you cannot open websites from IE8, that is not the only major concern because there could be worse to come. After installing Internet Explorer 8 (IE8) in Windows Server 2003 x86, you will not be able to access the Array Configuration Utility (ACU). If you try to do so, IE8 will simply crash. Try it if you don't believe this!
ACU 8.28.13.0 has been out since May 6, 2009, but nobody knows for sure whether it is really IE8 friendly or not.
There are several other bugs in IE 8 for which Microsoft has not rolled out any updates yet. One easy and simple solution to all these problems would be to simply stop using Internet Explorer and shift to Opera, Firefox or Chrome. However, that is easier said than done. Many people are much too used to this browser and don't want to give up using it.